Job Title
BJE Board, Past President
Photo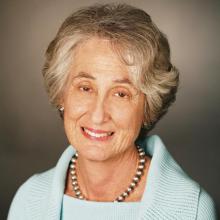 Bio
Elaine, a native Los Angeleno, attended religious school and was confirmed at the Wilshire Boulevard Temple. She was part of the first group of campers at Camp Hess Kramer and spent many happy summers there, first as a camper and later as a counselor. After graduating from Los Angeles High, Elaine attended Stanford University where she majored in English. She received a teaching credential at UCLA and taught in the Los Angeles Unified School District until her children, Susan and David, were born. Later she returned to UCLA to receive a doctorate in research methods and evaluation. 
Elaine's involvement with BJE began when she was asked to assist with an evaluation of the educational services offered by the agency. That led to membership on BJE committees, leadership of several taskforces, and various officer positions, culminating in the Board Presidency for the term 2005 – 2008.
She is an active member of Sephardic Temple Tifereth Israel, as were her parents and grandparents, all descendants of Jews who settled in the Ottoman Empire after the Jewish expulsion from Spain. Elaine is chair of the Advisory Board of the UCLA Alan D. Leve Center for Jewish Studies, and a member and past president of the Maurice Amado Foundation, founded by her great uncle. Her passions include being with her granddaughters, traveling the world and keeping in touch with the foreign exchange students from Turkey, Germany, Austria, France, Hungary, Norway and Russia that the Lindheims have hosted over the years.