Photo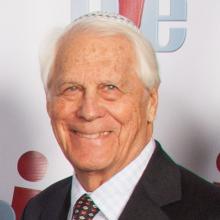 Bio
Herb was born in New Jersey and during high school attended the Teachers Institute of Yeshiva University, followed by UCLA and Harvard Law School. He and his wife Sharon have two children. Jonathan, married to Nancy, lives in Los Angeles; Tamar, married to Doron Kochavi, lives in Tel Aviv, Israel. The Glasers have been blessed with five grandchildren: Justine, Levi, Amit, Shir and Aerin. Herb began his career practicing law and then went on to head Glaser Development Company, engaged in development and ownership of industrial real estate.
Herb has lent his support to Jewish institutions throughout Los Angeles and Israel. He founded and has chaired the Los Angeles-Tel Aviv Partnership, the Jewish Federation's project devoted to building people to people bridges of understanding between Tel Aviv and Los Angeles through the school twinning program and other activities. Other Los Angeles organizations in which he has taken leadership positions include Council on Jewish Life, Jewish Community Foundation, Los Angeles Jewish Federation, Hebrew Union College School of Communal Service (now The Zelikow School of Jewish Nonprofit Management) American Jewish University, Beth Jacob Congregation, and the City of Los Angeles Fire Commission. Herb's international leadership has included serving on the boards of the Jewish Agency for Israel, Shalom Hartman Institute, and the Western Region Friends of Ben Gurion University.
Herb and Sharon spend their time in Beverly Hills, Malibu, Vail, Colorado and Ramat Hasharon, Israel. In all these locales they share a zest for life and a passion for the great outdoors, skiing, photography and travel.