Job Title
BJE Board, Past President
Photo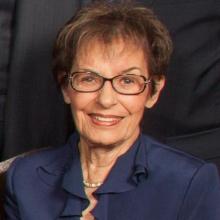 Bio
Janet is a native Angeleno.  Along with her three children, eight grandchildren and two great granddaughters, they all live near her home in Sherman Oaks.  
Janet received her teaching credential from Cal State and taught in the Los Angeles Unified School District until her children were born. She was BJE President from 1999 – 2002, chaired the School Accreditation Committee, and along with her husband Jakez"l was honored at the 2013-14 BJE gala.  Janet has been a member of Adat Ari El since 1960; Janet was Sisterhood President from 1975 – 1978. She also was Campaign Chair and President of the Women's Department of the Jewish Federation Valley Alliance.
Janet is passionate about support for Israel and has been to Israel over 50 times and were able to visit the school that was twinned with Adat Ari El as part of the Federation LA-Tel Aviv Partnership.