Job Title
BJE Board, Past President
Photo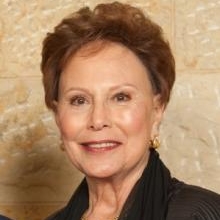 Bio
Rhea has been a passionate advocate for BJE over the years and is excited with the directions taken in recent years. She has held many BJE positions, including President, Vice President, member of the Budget and Investment committees, chair of BJE Gala Dinner committees, to mention just a few.
Rhea lives in Beverly Hills. She has three daughters with Halz'l Coskey --Laurie Coskey, Susan Coskey, and Eileen Coskey Fracchia; five grandsons-- Marshall and Aaron Voit, Jason Fracchia, Andrew and Evan Coskey; and two step grandchildren--Jamie and Anthony.  Her long time partner is Kurt Smalberg.  Rhea manages several properties for her extended family and has done so for many years.  She attended UC Berkeley and UCLA.
Rhea has been actively involved in Temple Emanuel, serving in several Vice President positions and also as Chairwoman of the Board. She supports the Jewish Vocational Service where she has been a Vice President and Chair of the Scholarship Committee. Rhea is a member of the Board of Overseers of Hebrew Union College and past Chair of the Zelikow School of Jewish Nonprofit Management Advisory Board.
Rhea was the volunteer director of the first Victim Advocacy program at the Beverly Hills Courthouse.  This program was set up to assist the victims who were called as witnesses in criminal cases, needing help to negotiate the system.