Photo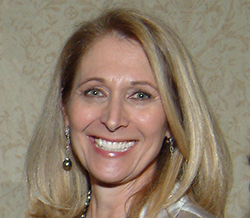 Bio
Susan has been actively involved in the Los Angeles Jewish community for over twenty-five years and has been on the BJE board for twenty-two years. As an Officer she has served as vice president, recording secretary, and is immediate past chair of the Standards & Affiliation Committee (which reviews the applications of schools wishing to affiliate with BJE), and has been a member of the Budget and Planning Committee, Board Member Education and Engagement Committee (BMEE), Lainer Early Childhood Committee, and co-chaired BJE's 75th Anniversary Gala, among others. 
In addition to Susan's involvement and dedication to BJE, she currently sits on the board of the Jewish Federation of Los Angeles where sits on the Birth through High School Committee and is an active member of the Leadership Development Committee.  Susan's community work has included AIPAC/and the North Beverly Hills Pro Israel Pac, founding chair of the Los Angeles Diller Teen Fellows program, a position she held for five years.  Susan has also been active in both the YULA High Schools, and chaired the Trustee Society for ten years.
Susan's main passion lies in her love and dedication to her husband Michael, and her children, Stefanie and Jeremy, Joey and Margo, and Julia and Adam.  Her grandchildren, George, Caroline and baby Emma Sandel are the loves of her life.