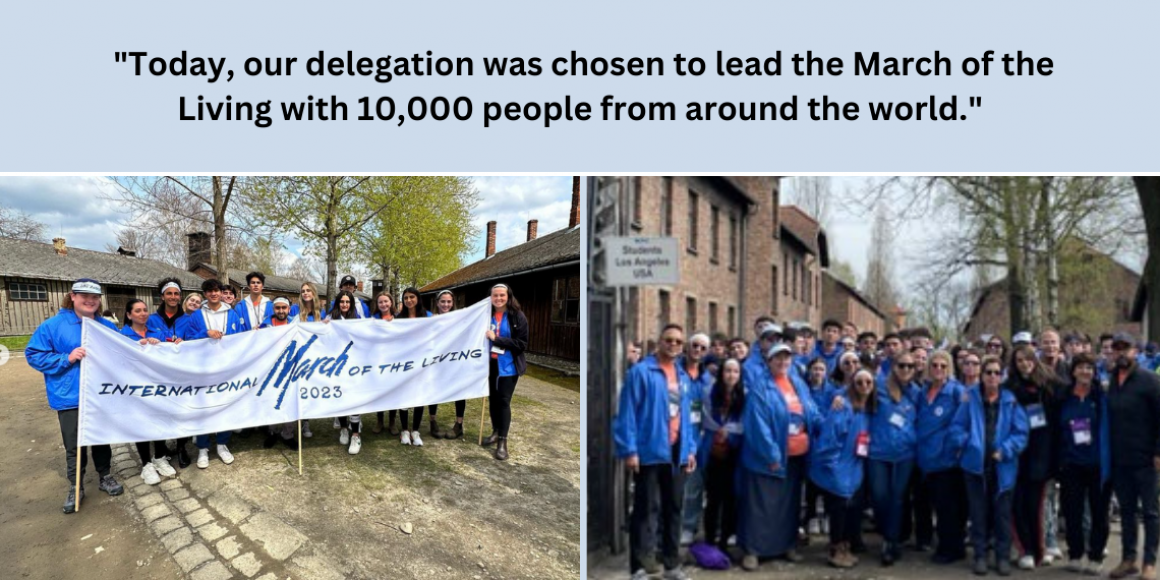 2023 BJE March of the Living Takes Off!
On Sunday, April 16, 168 Los Angeles teens left for Poland and Israel as participants in BJE March of the Living. Each year, a BJE-led delegation of nearly 200 teens, survivors, and staff members joins the International March of the Living, encountering Jewish life in Poland as it was experienced pre-, post-, and during the Holocaust. After a week in Poland, the journey proceeds to Israel, where teens commemorate Israel's Memorial Day and, this year, will celebrate Israel's 75 years of independence.
Today, Yom Hashoah, Holocaust Remembrance Day, BJE's teen March of the Living delegation led 10,000 people from around the world on a march from Auschwitz to Birkenau, recalling those who were murdered during the Holocaust. BJE's 2023 Los Angeles delegation is honored to be accompanied by Holocaust survivor Gabriella Karin, a Los Angeles resident, who shares her experiences pre-war, amidst the Holocaust, and post-war with our teens.  
On this Yom Hashoah, as the BJE-Los Angeles delegation experiences a profound day of collective memory, please consider a contribution in support of BJE March of the Living. Your generous gift will help fund the costs of historians and educators who will lead teens on next year's March of the Living, enabling more teens to meaningfully participate in this transformative journey. Teens who share this experience become witnesses for future generations.
Follow our teens along this journey on Instagram.
Donate to BJE March of the Living