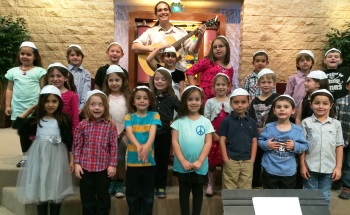 Back to the Future?
In 1942, the Union of Orthodox Jewish Congregations of America published A Model Program for the Talmud Torah, a guide to building rich Jewish and Hebrew literacy through after school courses of study.  Its editors were Joseph Kaminetsky, a leading Jewish educator of the era, and Leo Jung, a pre-eminent congregational rabbi who also served on the faculty of Yeshiva University.  While Jewish day schools expanded in number and student enrollment in the decades post-World War II, many Orthodox congregations continued to sponsor after-school Talmud Torah programs, well into the 1980's. 
By the end of the twentieth century, there were virtually no part-time Jewish educational programs under Orthodox auspices for children attending public school, save those sponsored by Chabad.  Chabad supplementary school programs catered, by and large, to populations that did not self-identify as Orthodox.  Day school enrollment had become ubiquitous for families affiliated with Orthodox congregations.  
As day schools—both Orthodox and non-Orthodox—grew, parental expectations grew, too. The generation of day school founders—in many cases driven by interest in nurturing Jewish literacy, values, and community—found modest facilities, class size of an order less than that at local public schools, and test scores higher than those of students in the neighborhood public schools sufficient, alongside the "driving" Jewish dimension of their children's education.  Parents who enroll their children at twenty-first century day schools often expect facilities rivaling those of the finest private schools as well as unparalleled educational offerings, including the broadest imaginable array of extra-curriculum programs.  Such aspirations are certainly laudable, but they come with a price.    
It is not uncommon for elementary day school tuition to exceed $25,000 per child per year, with high school tuition exceeding $40,000.  These charges are commensurate with the per pupil cost of education at many of today's day schools.  Although these rates—and the quality of education at Jewish day schools—are in line with other private schools, such tuition is beyond the reach of most families. 
There are active efforts to add to the revenue stream to (variously) reduce the charge across-the-board and add to day schools' capacity to provide need-based tuition assistance.  These efforts include endowment development and accessing government resources.  Both efforts have met with a measure of success, yet neither has, to date, significantly "moved the needle" of day school tuition.  Similarly, efforts to curtail costs (through joint purchasing, for example), however helpful, have not significantly changed the reality of tuition charges.  Since personnel account for eighty percent of school budgets, and excellent education depends on attracting and retaining outstanding staff, the possibility of substantial cost savings is limited.  
It is surely desirable for all Jewish families seeking a day school education for their children to have access to that opportunity.  Yet, the reality is that such access is increasingly beyond the reach of ever-greater numbers of families.  Has the time come to re-visit after school Jewish education not only for those families seeking to nurture Jewish identity, social connection and familiarity with Jewish holidays, selected texts and ideas, and basic vocabulary, but for those—of whatever denominational affiliation—seeking tools of literacy generally associated with day school?  Have we reached a point of looking back to the future?