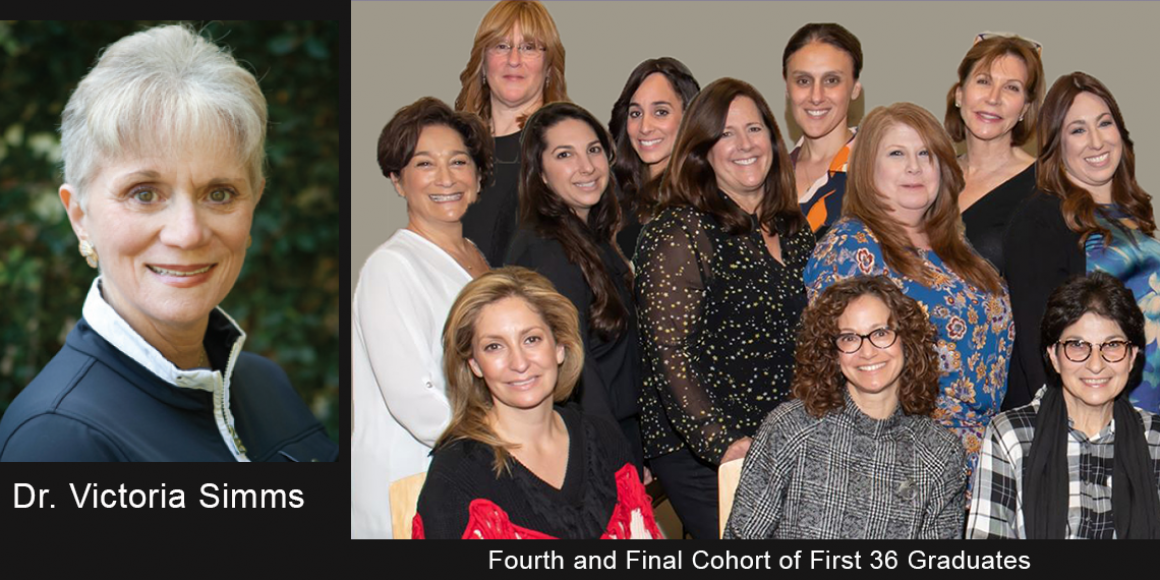 BJE and Simms/Mann Institute Graduate Final Class of First 36 Project
In August 2020, the fourth and final cohort of the First 36 Project was honored for completion of the program with a Zoom graduation ceremony. In addition to celebrating this year's program graduates, a variety of speakers also highlighted the overall impact of the Project on both the Fellows and the schools they represented.
The First 36 Project was developed in 2015 by the Simms/Mann Institute, in partnership with BJE and the Jewish Federation to provide a select group of Parent & Me instructors with an exclusive professional development experience designed to amplify their ability to support parents as they build strong, meaningful bonds with their children. The intensive program curriculum combines cutting-edge research in early childhood learning and brain sciences with evidence-based practices in early childhood development. As Fellows, they have exclusive access to a professional development experience that deepens and enriches their knowledge in early childhood, and enhances their ability to support the parents and young children with whom they work.
Nearly 50 educators across the Greater LA area are now program Fellows, including this year's cohort:
Shoshana Dubinsky, Toras Emes
Julie Dubron, Adat Ari El
Diane Germansky, Temple Akiba
Jamie Hoffer, Temple Isaiah
Rachel Klein, Pressman Academy
Bri Naiman, Leo Baeck Temple 
Jennifer Perlman, Wilshire Boulevard Temple
Claire Peikon, Maimonides Academy
Liron Rosenberg, Maimonides Academy
Sara Rosenthal, Emek Hebrew Academy
Susan Rudich, Wilshire Boulevard Temple
Alex Yedidsion, Sephardic Temple

The graduation ceremony, which due to the current circumstances brought on by COVID was held via the Zoom platform, featured several presenters who spoke about the wide impact of the First 36 Project.
Molly Mills, a 2017 graduate of the second cohort, reflected on the impact of being a Fellow. "During my experience in the First 36, there were countless moments that I discovered 'gold' – I found that valuable nugget – realization, inspiration, recognition, or deep understanding of a concept. The First 36 Project, our cohort and the think tanks, are filled with so many of those exciting and stimulating moments, that it's hard not to leave this program more passionate about early childhood education, and the first few years of life…it's made us stronger educators and stronger parent support systems."
BJE Executive Director Dr. Gil Graff presented Dr. Victoria Simms, the President of the Simms/Mann Institute & Family Foundation, with a meaningful thank you gift, a menorah. Dr. Graff explained to the group, "When I think of the impact of the First 36 over these five years, the catalyst has been Dr. Victoria Mann Simms, she has served to bring that flame up and allow those who have been kindled to carry that flame with them. What endures forever is education, what people learn remains with them, they pass it to others, and it extends beyond our own lifetime. This is the profound impact that the First 36 has had through its passionate creator and promoter, Dr. Victoria Simms, to whom we express the greatest gratitude."
Jay Sanderson, President and CEO of the Jewish Federation, also acknowledged the significant vision of the Program: "Vicki, what we all appreciate about you is not just that you have dreams and ideas and visions, it's that you have the unique ability to make all this happen to bring the best and brightest people together, which is what you did in the First 36 to create something that will have lasting impact on our community and our world."
Each of the speakers congratulated the Fellows, and thanked them for the important work they're doing within our Jewish community. Victoria spoke directly to them, saying, "I hope that the knowledge that you have gained through attending the think tank, having access to the neuroscience research, and through the 'Building the House Within' curriculum of the First 36 program has helped you not only professionally but also personally. This curriculum is more than a program, it's a lifestyle, a way of thinking and living and walking through this world with meaning and purpose."
Daryl Niemerow, Managing Director of the Simms/Mann Institute, discussed the Simms/Mann Institute's plans to offer an advanced post-fellowship program, involving a quarterly series with the top researchers in ages zero to three to continue the commitment to providing cutting-edge neuroscience research to deepen educators' knowledge. First 36 Fellows will all be able to access the new program offerings as they are developed. The new initiative furthers the Simms/Mann Institute's longstanding commitment to advancing academic thought and practical implementation of education for ages birth to three years.
Click here for more information about the Simms/Mann Institute's work in this area.
Click here to learn more about BJE's work in early childhood education.