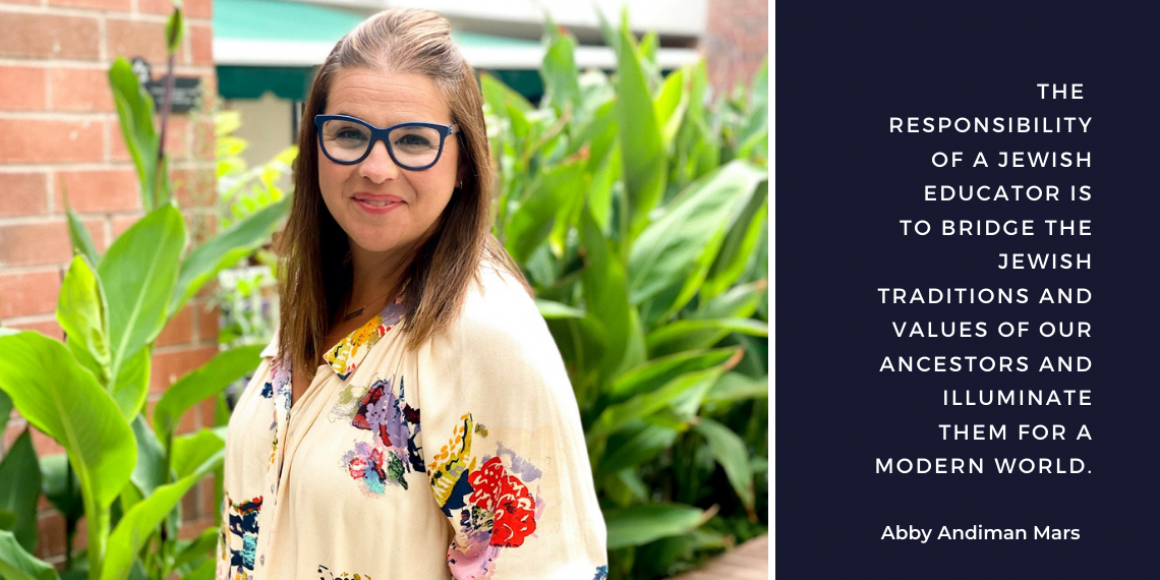 BJE Builder - Abby Andiman Mars, Early Childhood Center Director Valley Beth Shalom
Growing roots and wings. The Valley Beth Shalom Early Childhood Center is committed to nurturing young children and supporting their families through Jewish tradition, wisdom and values. We partner with families to provide a safe and loving community to create a more just, enlightened and peaceful world. Our commitment to tikkun olam resonates in all that we do, and permeates our curriculum, our relationships and our responsibility as Jews.
The responsibility of a Jewish Educator is to bridge the Jewish traditions and values of our ancestors and illuminate them for a modern world. Builders of Jewish education are not simply teachers, they serve as "activators" creating and living a life that is a commitment to the blessing la'asok b'divrei torah: Blessed are you, Our G-d Sovereign of the universe, who makes us holy by your mitzvot and has commanded us to engage with the words of Torah.
In taking seriously the blessing of engaging in Torah, I see each day full with vital opportunities to be busy (la'asok!) with the words of Torah. This means creating and sustaining meaningful relationships with families, children and staff. It means creating a community that is just, loving and safe. It means thinking creatively, owning missteps, drawing out the best in the people around me, and counting my blessings. I continue to derive pleasure and pride in the work that I do. I thrive when I work with others, accomplishing more together than I could on my own. I find joy in moments big and small that sanctify what it means to be a Jew.
Fundamentally our ECC is operating just as it always has. We start from a place of love and commitment to our families, children and staff. We create policy and programming that seek to support the social emotional, cognitive, physical and spiritual wellbeing of our community. We may look a bit different these days, but behind the masks are the warmth and love our community has always known.
Abby Andiman Mars is being recognized at BJE "Out of the Box" Gala on February 5.  To find out the names of all those being recognized, please go to www.bjela.org/gala.
For more information about the VBS Early Childhood Center please click here for their website.