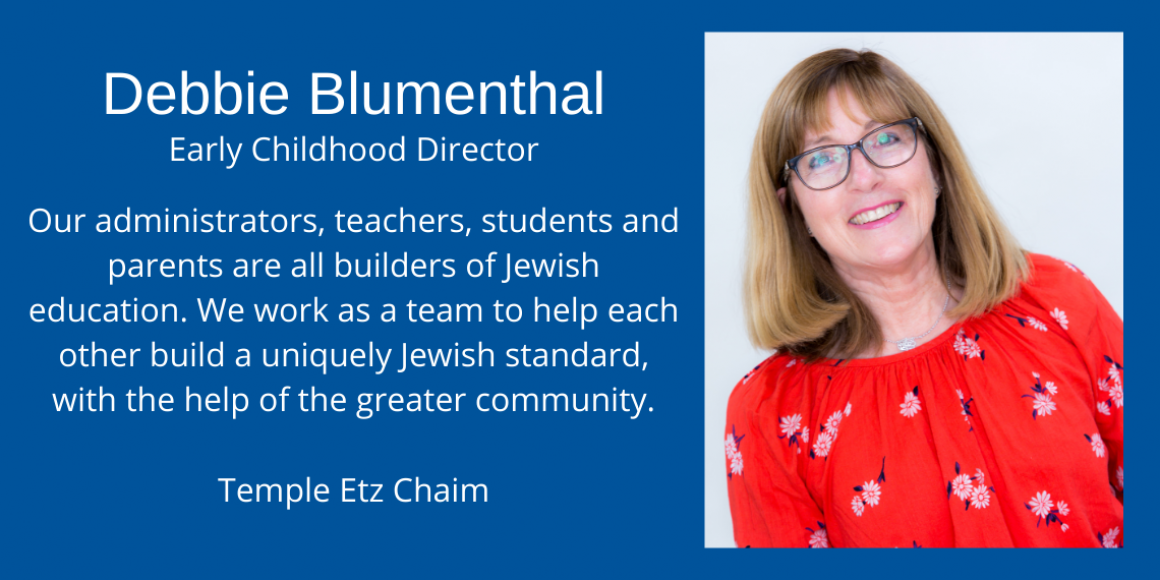 BJE Builder - Debbie Blumenthal, ECE Director Temple Etz Chaim
Every one of the students in our diverse ECE gets a Jewish education starting on day one. We infuse Judaism through songs and stories beginning with our infants through our kindergarteners. With our Middah of the Month, we make sure that each child understands the values inherent in our ancient tradition.
Our administrators, teachers, students and parents are all builders of Jewish education. We work as a team to help each other build a uniquely Jewish standard, with the help of the greater community. Our educators are all themselves continuing their education to keep our school growing. It is vital for them to be building themselves, sharing ideas, and working as a team to better our school, our curriculum, and bring our values to the greater Conejo Valley.
In addition to masks and health screenings, our school has learned to be more comfortable working online with the families who are not yet ready to rejoin our classrooms, and to be more flexible with each new ordinance. We follow all of the local rules and have developed a stronger relationship with county health officials to ensure the safety of every child. We have smaller class sizes, but more classrooms, as more families are looking to find a healthy home in which their children can grow.
Debbie Blumenthal is being recognized at BJE's Out of the Box Gala on February 5, 2021.  To learn more about the gala and how you can participate, please click here.
To learn about Temple Etz Chaim's and the Early Childhood Center, please click here.