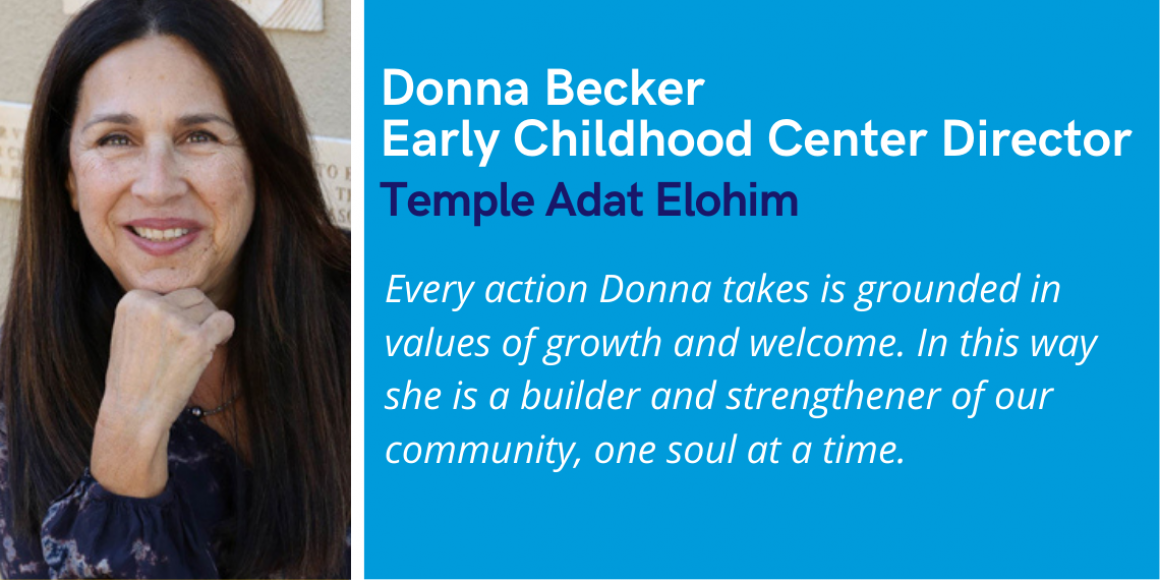 BJE Builder - Donna Becker, Early Childhood Director, Temple Adat Elohim
In our early childhood center, Jewish education is specifically designed to embrace both child and parent, Jews and non-Jews, all of whom find a welcome place in our school and community. Jewish education provides a ritual language for families to express their common values as well as explore the unique ideas that Judaism has added to our world. The school embraces the values of respect and exploration, discovery and acceptance as families form their religious lives. 
Builders of Jewish education must begin with a personal conviction that they have something worthwhile to share. Upon that foundation, they must have two visions: first, they must imagine the community that graduates of their educational program will inhabit. How will the community come together to celebrate, mourn, make decisions, solve the novel problems of tomorrow? Second, they must imagine the path that people might take to become active members of the community. 
Every action Donna takes is grounded in the values of growth and welcome. She encourages both parent and child to travel their own paths at their own pace. Because she is embracing of people regardless of their current stage of growth, people seek her out as a trusted advisor. It is through those relationships she has with parents and teachers alike that she helps people to explore new areas of their family and religious lives from a place of comfort and acceptance. In this way she is a builder and strengthener of our community, one soul at a time.
The speed at which Donna helped the early childhood center to shift online was absolutely dizzying. Donna has created such an experienced, talented, and responsible staff that she was able to empower them to develop plans that served our youngest children and their parents. And, as soon as it was possible to safely open again, Donna synthesized the voluminous and ever-changing rules for in-person classes and reestablished a safe and healthy routine with the help of our administration and faculty. She was also able to recognize the changing needs of the community and offer a kindergarten class, which had not been previously available to parents. For so many of our family members, Donna has enabled at least a partial return to normal life.
Donna Becker is being recognized at BJE's Out of the Box Gala on February 5, 2021, along with other educational leaders throughout Los Angeles.
For more information about who is being recognized and how to participate, please go to www.bjela.org/gala.
To learn more about Temple Adat Elohim, please visit their website by clicking here.