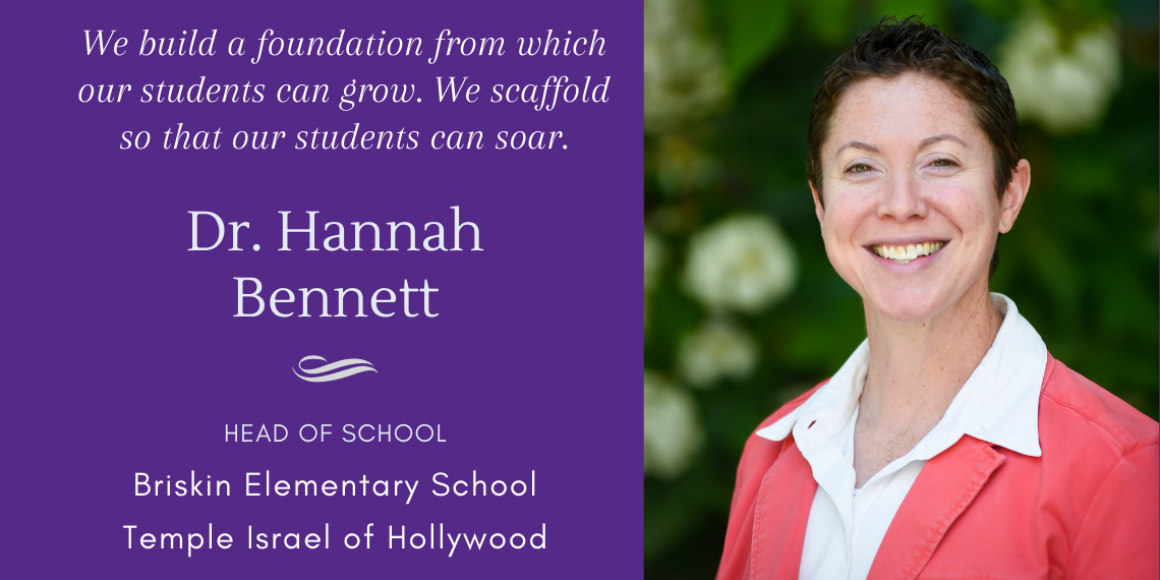 BJE Builder - Dr. Hannah Bennett - Head of School, Briskin Elementary School, Temple Israel of Hollywood
Jewish education is the "secret sauce." Any good school will teach students to be literate individuals, but Jewish schools teach students what to do with their literacy. Learning Hebrew teaches students a second language and forms synapses in the brain that otherwise would not form, allowing children to learn things they otherwise would not be able to learn. Hebrew is also the language of our people and as such connects our children to their past and their future in a deep and meaningful way. Judaic studies is the best of 21st century learning. It allows students to contemplate big questions and to work in collaboration with their peers in meaningful ways. Jewish education makes learning tangible, relevant, and meaningful.
Building is an ongoing process. We build a foundation from which our students can grow. We scaffold so that our students can soar. We open doors and present opportunities for others to continue to discover. The roots we sow connect our people to the past, the present, and the future. 
I cannot be prouder of the educators with whom I am fortunate enough to work. They are excellent in their teaching craft, masters of differentiation, collaborative in learning, creative in executing their lessons, passionate about their students, and partners with our school. They are Builders because they know that students who know themselves are the ones who succeed and contribute to the world around them. They are Builders because they walk the talk and know that understanding starts with the student-teacher relationship.
When it came to the pandemic, the question isn't how have we pivoted, but how have we not pivoted? We adjusted our facilities, our class schedules, our daily routines, the way we connect, the way we disseminate information. We connect more intentionally with our teachers, our students, and our parents. What we did not change was our commitment to knowing each child, to finding the best way for each child to be seen, to know who they are as individuals, and to access a dynamic, rigorous, and creative education. I am very proud of the work we have done at Briskin, and I invite everyone to come see our school!
Dr. Hannah Bennett was recognized at BJE's Out of the Box Gala on February 5, 2021.  For more information about Briskin Elementary School, please visit their website here.