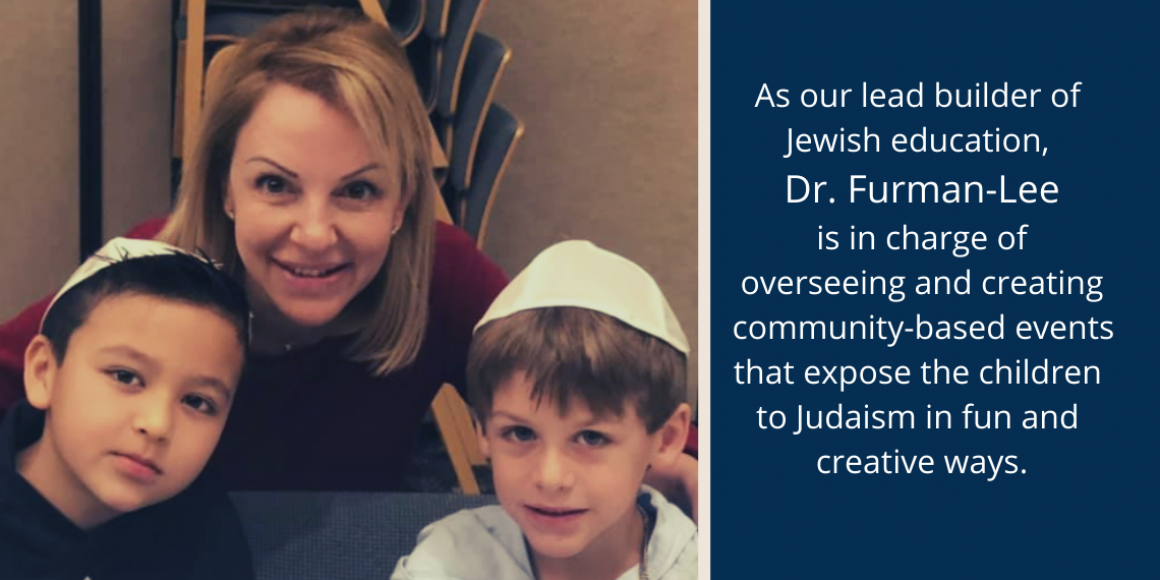 BJE Builder - Dr. Sharon Furman-Lee of Shomrei Torah Synagogue
Shomrei Torah Synagogue is a Kehillah Kedosha, a sacred community, where our programming and values rest on the foundation of six pillars of sacred thought and action. One of the pillars of the synagogue is "Learning and Teaching" Lilmod u'Lelamed. As learners and teachers, each individual engages in the wisdom of our rich tradition through the study of the Torah. Jewish education begins in childhood through learning the customs and values of the religion. We also focus on the community's importance in the Jewish individual's life through rituals, and celebratory and sad holiday and life cycle events.
Being a builder of Jewish education requires a person who loves the Jewish tradition and its values. Children learn through constructing their meanings to new situations. Builders of Jewish education need to create opportunities for the children to experience Judaism in fun, creative, and meaningful ways. As our lead builder of Jewish education, Dr. Furman-Lee is in charge of overseeing and creating community-based events that expose the children to Judaism in fun and creative ways. Dr. Sharon Furman-Lee leads the teachers to perform at their best to engage the children in Jewish learning. She also plans and executes all family services and Friday, Saturday, and Havdalah services. 
​During the pandemic, Dr. Furman-Lee and the religious school team have managed to create a thriving learning environment that is exclusively online through ZOOM. Teachers meet with students twice a week and engage them in creative, project-based learning. Dr. Furman-Lee also engages the children in well-attended online services. Students lead those services with the guidance of Dr. Furman-Lee, and their families are incredibly proud of them and their achievements.
Dr. Sharon Furman-Lee is being recognized at BJE's Out of the Box Gala on February 5, 2021, along with other educational leaders throughout Los Angeles. For more information about who is being recognized and how to participate, please go to www.bjela.org/gala. 
To learn more about Dr. Furman-Lee and Shomrei Torah, visit their website here.