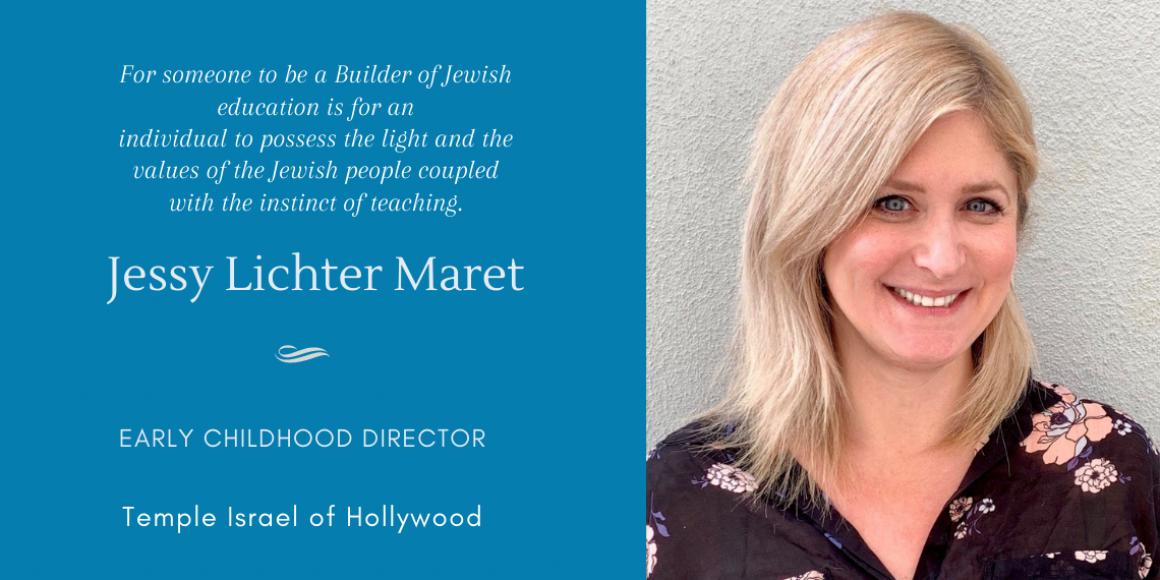 BJE BUILDER - Jessy Lichter Maret, Early Childhood Director - Temple Israel of Hollywood
The Bay-Nimoy ECC values the virtue of learning, the act of learning and living Tikkun Olam, and living a life of integrity by practicing acts of loving-kindness as we learn. By integrating Jewish values, the history of the Torah, and the modern world, our students are focused and well-rounded individuals who can make justice-minded and socially conscious decisions.
For someone to be a Builder of Jewish education is for an individual to possess the light and the values of the Jewish people coupled with the instinct of teaching. Together, this person can instill their wisdom in others, share their minds, and help students construct thoughts.
The educators at the Bay-Nimoy ECC are putting the pieces of the foundation of a child's learning blocks together- those blocks include instrumental values based on Jewish history, Torah, and teachings. The educators at our school are the primary instructors making the first impact outside a child's home. Their instruction in a school-based setting introduces the tone for the lifelong skill of learning.
The Bay-Nimoy ECC has pivoted since Covid-19 in new and inventive ways in an ongoing effort to keep our youngest families connected to the center of our school community in an ever-changing world. Within one week of school closing, our teachers were teaching live online, providing interactive instruction, live music classes, and individual learning opportunities. We organized bi-weekly Town halls and parent education sessions. We augmented our nursery school and Parent and Me programming to include both in-person and online options to maximize learning and connection for all our families, both returning and new.  
 
Jessy Lichter Maret was recognized at BJE's Out of the Box Gala on February 5, 2021.  To learn more about the Bay-Nimoy ECC please go to their website by clicking here.