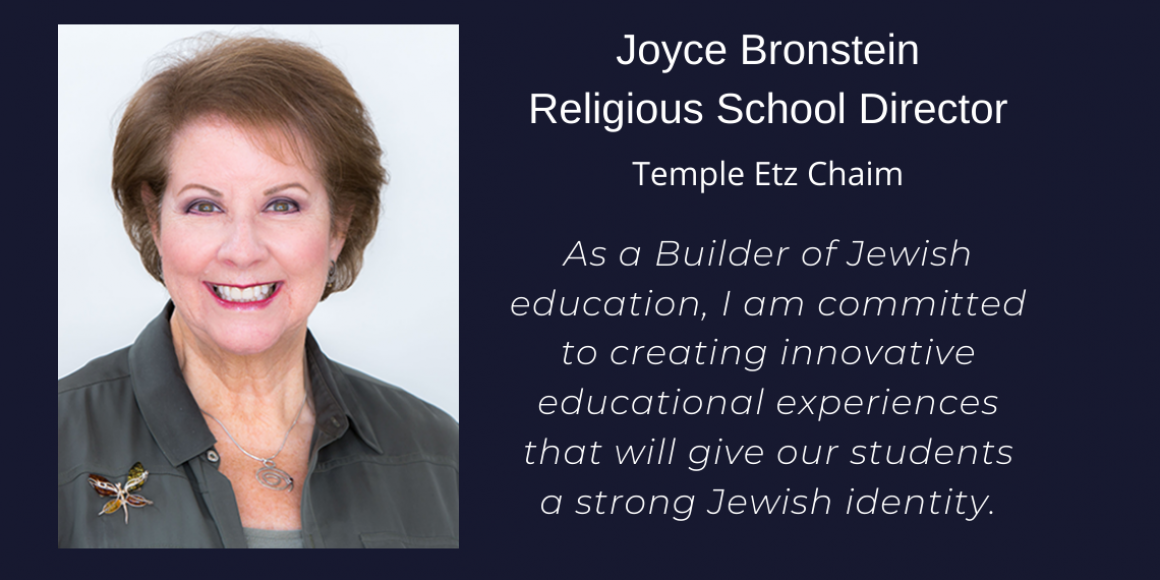 BJE Builder Joyce Bronstein, Religious School Director, Temple Etz Chaim
The importance of Jewish education is multifaceted: to foster strong and vibrant students who will carry Judaism in their souls; to provide a strong foundation in the history, heritage, traditions, G-d, Israel, Bible, Mitzvot, music, art, and the overall beauty of Judaism; to teach students how to read Hebrew and feel comfortable chanting prayers; and to give students the tools to live a Jewish life as adults. 
A Builder of Jewish education is committed to educating students with a love of Judaism and its teachings and providing a comprehensive education so that each generation continues to provide a Jewish home for their families and participate in the Jewish community.  
For me, building a Jewish education means assisting Religious School teachers in being the best that they can be in their classrooms. I am committed to creating innovative educational experiences that will give our students a strong Jewish identity. Our Temple's Clergy and Board of Directors are supportive of the Religious School and our mission. We all have the common goal of providing a meaningful experience and education for our students. We are dedicated to teaching our students about Judaism, enabling them to become a part of Judaism's future.
In March, we switched immediately to prerecorded online learning using the Zoom platform. In June, I realized that I needed to secure consultants who could provide the teachers with instruction to master the techniques and tools of Zoom. The Religious School teachers volunteered over 18 hours of their own time to learn how to use Zoom effectively.  Besides the hours of learning with the consultants, the teachers worked together to help each other. 
I met with parents to present and discuss the benefits of teaching in ZoomRooms. We provided books and supplies, which parents picked up before the first day of class. Our staff offers our students excellent and well-rounded education through the ZoomRooms. We continue to offer music and Ulpan tutoring through Zoom. We can pivot from ZoomRooms to Classrooms quickly, which is valuable and essential during the Pandemic. Whether our students are at home or in a physical classroom, our staff is committed to teaching them in an engaging, exciting, and joyful manner, instilling in them a love of Judaica and an appreciation for the beauty of Hebrew. 
Joyce Bronstein is being recognized at BJE's Out of the Box Gala on February 5, 2021.  To learn more about the gala and how you can participate, please click here.
To learn about Temple Etz Chaim's Religious School, please click here.