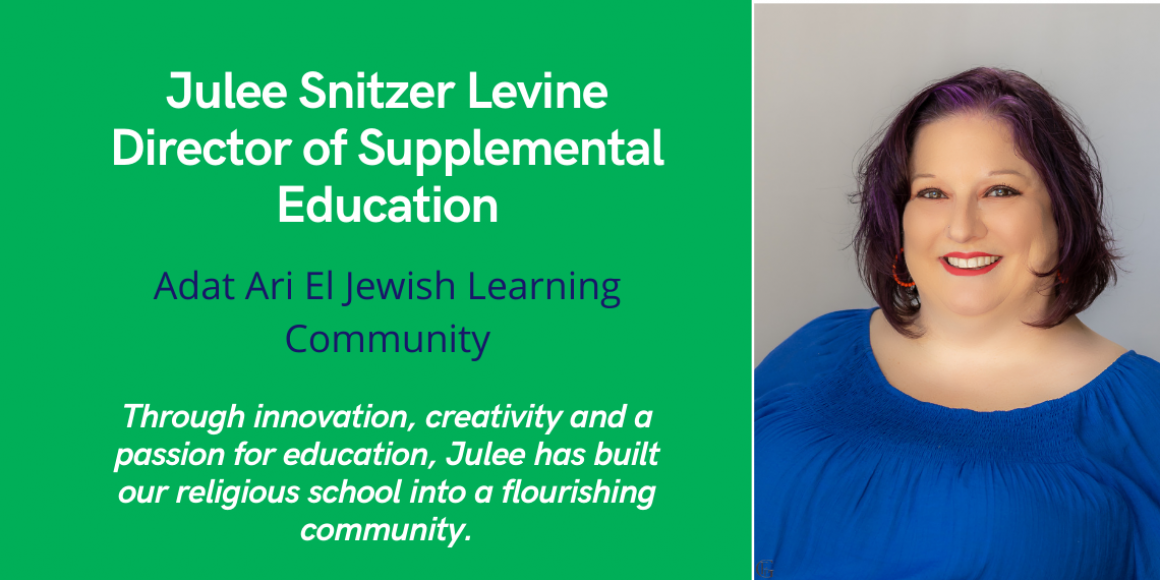 BJE Builder - Julee Snitzer Levine - Director of Supplemental Education Adat Ari El Jewish Learning Community
Adat Ari El believes that all Jewish children deserve a Jewish education. The JLC (Jewish Learning Community - Adat Ari El's Religious School) was formed to create a community of Jewish learners. A Jewish education influences a child's life in many positive ways. It weaves a moral, ethical and thoughtful component into the educational foundation that brings children closer to Judaism and provides a meaningful experience that will translate into a life-long gift.
 
A Builder of Jewish education is someone who has dedicated him or herself to bringing Judaism into the lives of others and who is committed to consistently enhancing the lives of students through Jewish learning.
 
Julee Levine has dedicated her life and career to helping our youth navigate through life with a Jewish lens. Through innovation, creativity and a passion for education, she has built our religious school into a flourishing community. Julee has infused a sense of adventure and fun into the educational process through her involvement in our JLC, Confirmation program, USY and other youth programming.
 
When schools closed, JLC pivoted immediately to online only zoom classes. While the first few weeks were quite a learning experience, Julee spent the summer immersed in her own learning, then spent a good deal of time training our teachers to be the best that they could be in the current situation. The result has been nothing short of spectacular. We have a thriving program, with more than 70 students logging in on Tuesday afternoons for classes in grades K-6, and more coming on in the early evening for Confirmation. More Hebrew was added into the curriculum, with one on one zoom tutoring for all students in Grades 3-6. K-2 have Hebrew Through Movement and all students benefit from twice-monthly music sessions. Our students continue to advance in their studies. While we very much look forward to the day we can gather again, Julee has done an amazing job in keeping our community together during this very difficult period.
Julee Snitzer Levine is being recognized at BJE's Out of the Box Gala on February 5th.  For more information about Adat Ari El's schools, please click here for their website.