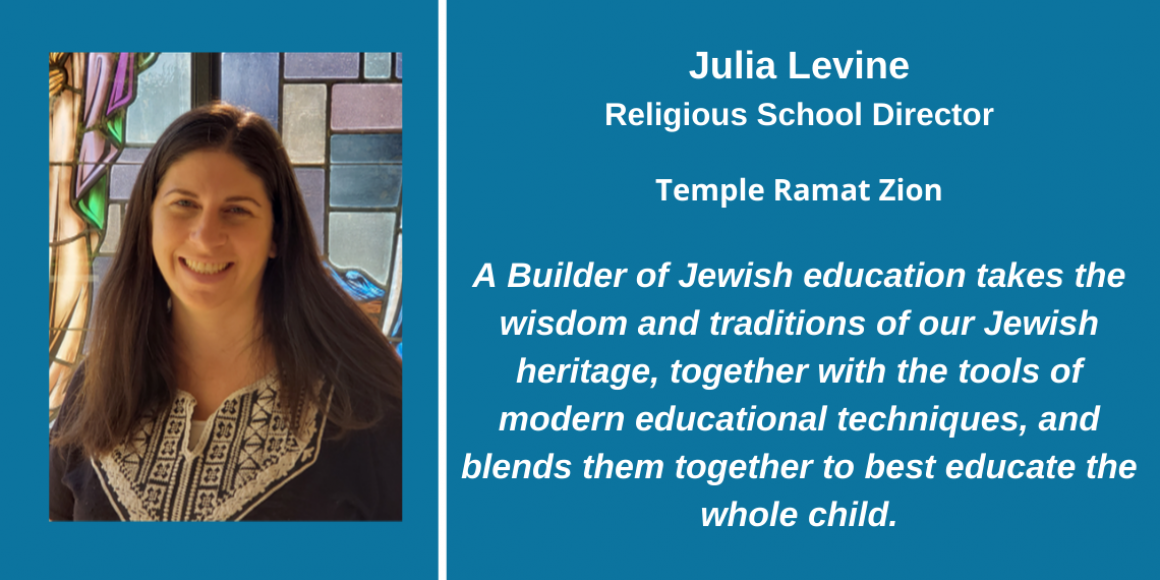 BJE Builder - Julia Levine, Religious School Director Temple Ramat Zion
At Temple Ramat Zion, we feel that a Jewish education is critical for raising and educating children in a holistic way. We know that we educate our children in reading, math, art, science, etc. in order to prepare them for careers and to be good citizens, but a Jewish education prepares children to be good people and guardians of our tradition by using the wisdom of the past.
The guiding educational philosophy at every grade level at Temple Ramat Zion Religious School is to instill in students a love of learning and Judaism, an understanding and knowledge of prayers, holidays, history, and ethics, and the tools for exploring Jewish questions and issues that are relevant to their lives. We want our students to develop understanding of and appreciation for their Jewish heritage. We want our students to have the ability to participate actively in synagogue and in-home rituals. We want our students to learn to be ethical, socially responsible members of the Jewish community. 
A Builder of Jewish education takes the wisdom and traditions of our Jewish heritage, together with the tools of modern educational techniques, and blends them together to best educate the whole child. A Builder of Jewish education is always learning and growing, modeling for her/his students, how to be Jewish and think Jewishly every day.
Our educators are Builders of Jewish education because they are passionate about transmitting our heritage to the next generation. And that passion translates into innovation in lessons and the ability to reach every child at their level. And it comes through in their teaching, as they inspire and open up the minds of their students to Jewish concepts and traditions that will stay with them throughout their lives. 
Temple Ramat Zion's Religious School pivoted to virtual classes quickly at the beginning of the pandemic. While this was difficult for everyone in education, it was a particular challenge for supplementary schools. After a busy summer of planning, TRZ's Religious School pivoted to a new schedule, a new curriculum, and new options for classes. We have been able to address many of the challenges involved in virtual learning and in supplementary education, and continue to educate and engage our students.
Julia Levine is being recognized at BJE's "Out of the Box" Gala on February 5.  For more information about who is being recognized and how to participate, please go to www.bjela.org/gala.
For more information about Temple Ramat Zion, please click here for their website.