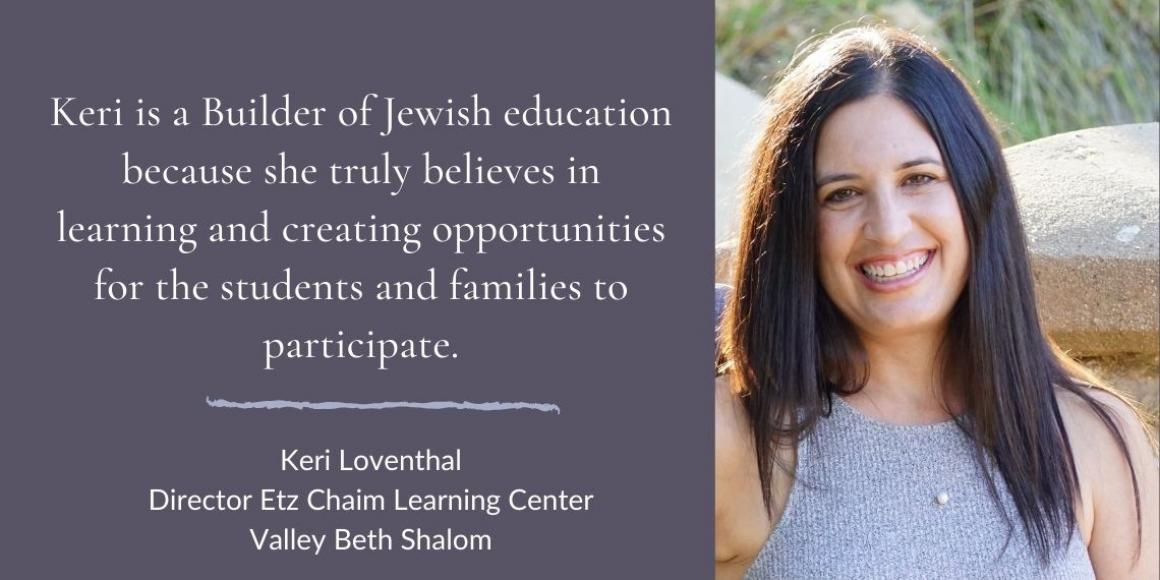 BJE Builder -Keri Loventhal, Director Valley Beth Shalom Etz Chaim Learning Center
Our Etz Chaim Learning Center values the importance of creating a Jewish community for students who attend secular schools. We are committed to giving students a chance to experience and "do Judaism." This happens in the classroom, yard, tefillah, shirah, family programs, school programs, holidays and Synagogue events. We strive for our students to leave our school as confident and knowledgeable individuals. We want our students to go out in to the world with a strong Jewish identity and seek out organizations or groups that represent their values.
To be a Builder of Jewish education a person must be innovative, think outside of the box, and be passionate about learning. It means understanding where students are in their learning and meeting them there. It means continuing to strive to be up to date with the latest models of learning. 
Keri Loventhal is passionate and dedicated to Jewish learning. She believes that all students are entitled to a Jewish learning experience. She brings her knowledge to the teachers in professional development sessions and encourages them to practice these new models. Keri believes that as education continues to change we must find new ways to meet the needs of our students. Keri meets regularly with the other VBS Heads of Schools to collaborate on programming and to be a support system for each other. Keri is a Builder of Jewish education because she truly believes in learning and creating opportunities for the students and families to participate.
When our school closed for on-campus learning in March, we immediately transitioned to a virtual learning platform. Our teachers participated in staff development opportunities and trainings to enhance their use of technology and to learn best practices. We learned how to overcome the obstacles that were placed in front of us, with great success! We continued to give students a meaningful Jewish learning experience while also creating community in an online environment. We connect with families through Zoom Shabbat events and drive thru pick up parties where we can see our students' smiling faces.
Keri Loventhal is being recognized at BJE's "Out of the Box" Gala on February 5. To find out the names of all those being recognized, please go to www.bjela.org/gala.
To learn more about the Etz Chaim Learning Center at VBS, please click here to go to their website.