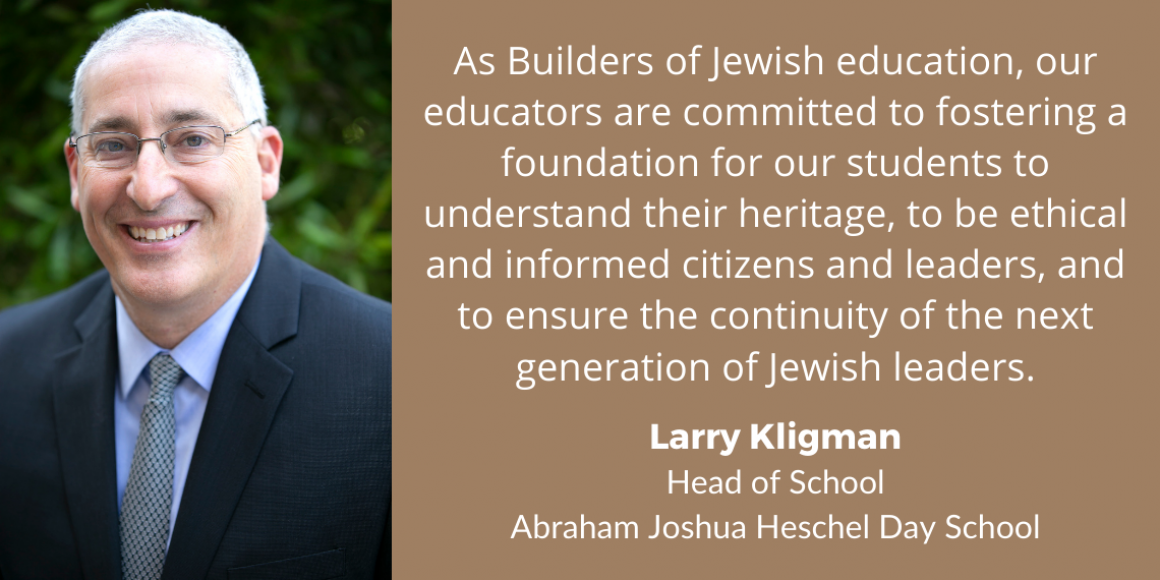 BJE Builder - Larry Kligman - Abraham Joshua Heschel Day School
At Heschel, our values of tradition, character, and community infuse teachers and students with a shared vision and meaningful purpose and are instrumental throughout our curricular programming. Spirituality and Jewish culture influence many of our core values and beliefs. From our youngest grades, students are taught to question, discuss, debate, and thoughtfully consider information as active learners. Our Jewish values inspire active engagement in community, citizenship, and service, and we encourage our students to emerge as active citizens who understand the importance of making a difference in the world.
Heschel is a place where students are comfortable and proud to be Jewish. Our Judaic studies curriculum helps to grow individuals who are proud of their Jewish identity. From the earliest age, they live their Jewish values through participation in prayer, services, Jewish celebrations, and especially through the study of Jewish values and participation in chesed and tikkun olam. As Builders of Jewish education, our educators are committed to fostering a foundation for our students to understand their heritage, to be ethical and informed citizens and leaders, and to ensure the continuity of the next generation of Jewish leaders. We integrate our secular and Jewish studies and incorporate Jewish values into all areas of study. Our entire faculty shares a love of teaching, but equally important is their incredible thirst for learning. They participate in myriad professional development opportunities to constantly grow and expand beyond the classroom. Every Heschel faculty and staff member in every area of our school leads with Jewish values and through a Jewish lens. 
One of the strengths of our school is our ability to evolve and implement change while still staying true to our founding mission and philosophy. Thus, when the pandemic hit, we were able to embrace change and constantly remind ourselves of the importance of remaining nimble. In March, we immediately shifted to a distance learning program. As the quarantine continued and our students' social-emotional and academic needs shifted, we pivoted as well. From adjusted delivery of lessons to new schedules and innovative learning opportunities, we never stopped responding to our community's needs. As the state and county guidelines have shifted through the fall, we have pivoted to a hybrid program that has required continual attention to detail. While this period has been incredibly challenging, it has also made us grow as educators and strengthened the link between our staff, students, families, and community.
Larry Kligman is being recognized at BJE's "Out of the Box" Gala on February 5.  For more information about who is being recognized and how to participate, please go to www.bjela.org/gala.
To learn more about Heschel, please go to their website by clicking here.