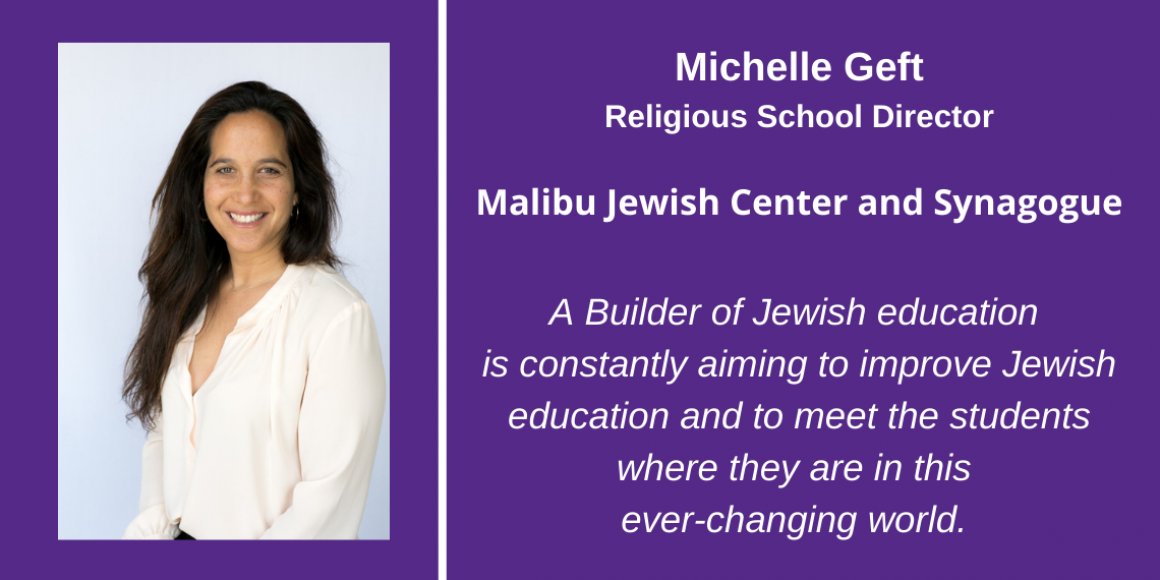 BJE Builder - Michelle Geft Religious School Director, Malibu Jewish Center and Synagogue
A Builder of Jewish education is constantly aiming to improve Jewish education and to meet the students where they are in this ever-changing world. This includes differentiating our learning, finding ways to connect to students and their families on a personal level, and not just teaching them but learning from them as well. Our goal is to inspire and to instill an innate appreciation of Judaism in each child and for them to be able to express that in a way that is unique and meaningful to them. In this way we hope that they will carry their Jewish connection forward, into their adult lives.
The educators at MJCS are in continual contact with each other, sharing ideas both found and created. We work together to improve the learning environment, whether in person or online. We are not only invested in the school as a whole, or as a class, but in each student individually as well. Focusing on the interplay of all of these elements successfully helps to scaffold Jewish education from one year to the next.
The pandemic, although it brought us physically farther apart, has in many ways brought us closer together. As a result, the teachers and parents are in closer contact now than ever before. Another positive outcome of teaching online has been to have one-on-one time with each student. Prior to this, it was a challenge to make it happen while onsite with all there is to teach. Now that we are teaching online, we adapted our schedule to meet the needs of students during this time, and we are thrilled to be able to have individual time with each student as well as connecting with each of them on a deeper level.
We understand the advantage to being physically together in an on-site classroom and yearn for those days again. And when that time comes, we will bring along these new levels of connection forged during the pandemic as we continue to strive to provide an exceptional Jewish education for our students.
Michelle Geft is being recognized at BJE's "Out of the Box" Gala on February 5.  For more information about who is being recognized and how to participate, please go to www.bjela.org/gala.
For more information about Malibu Jewish Center and Synagogue, please click here for their website.