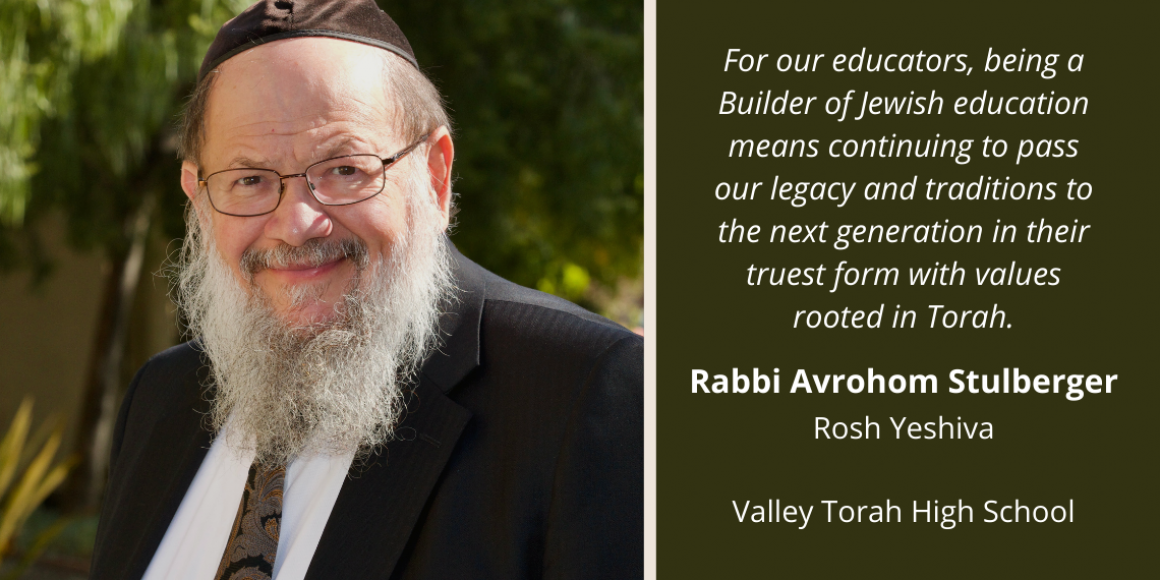 BJE Builder - Rabbi Avrohom Stulberger, Head of School Valley Torah High School
Our mission at Valley Torah High School is to provide an excellent Torah and College Preparatory program that inspires our students to lead lives dedicated to Torah values, the pursuit of higher education and personal growth, resulting in a successful interface with an ever changing world.
The vision we have for our students is for them to be committed, proud, and learned Jews who understand their roles within the Jewish community and the world at large. They will recognize the importance of developing good character traits and integrity, and they will treat all people with respect. They will have a thirst for acquiring greater knowledge while pursuing their spiritual and academic goals.
For our educators, being a Builder of Jewish education means continuing to pass our legacy and traditions to the next generation in their truest form with values rooted in Torah. Our educators strive to develop a connection with our students, bringing Torah to life in today's world. Rabbi Stulberger took over Valley Torah with just a handful of students. His warmth and caring built a community.
Throughout the pandemic, the school has had to learn new methods of connecting to the students through distance learning, social distancing and masking protocols. As our students hunger for personal interactions, we have found ways to have in-person activities to feed that need and keep the connections strong between the staff and students.
Rabbi Avroham Stuhlberger is being recognized at BJE's Out of the Box Gala today, February 5, 2021.  For more information about Valley Torah High School, please click here to go to their website.