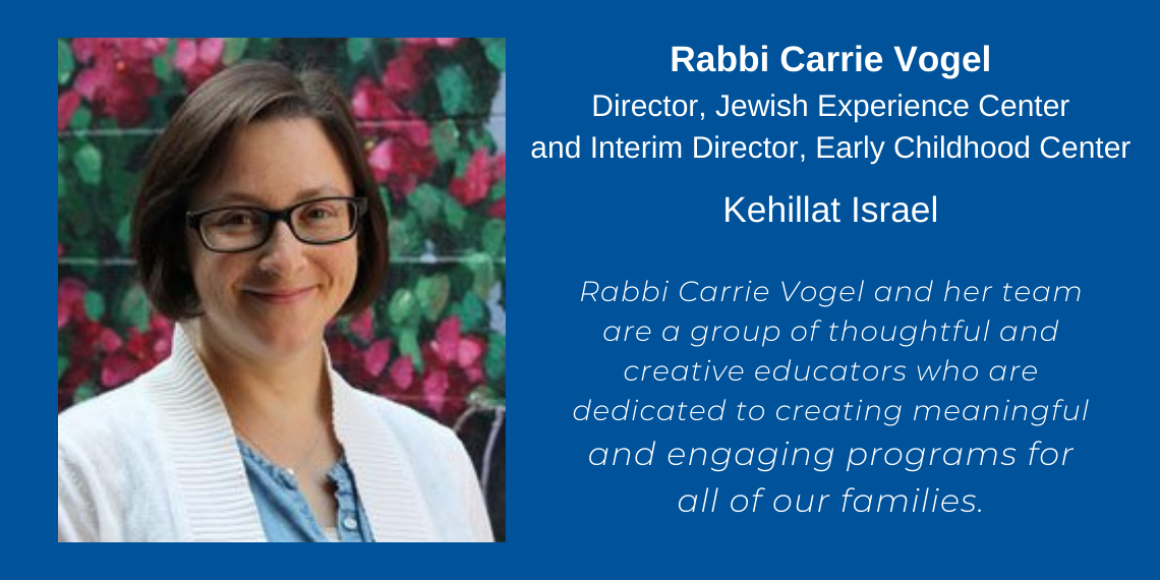 BJE Builder - Rabbi Carrie Vogel, Director, Jewish Experience Center and Interim Director, Early Childhood Center, Kehillat Israel
Kehillat Israel's Jewish Experience Center facilitates meaningful and joyful Jewish experiences for our young congregants and prepares students to be Jewish adults in our world today and in the future. A builder of Jewish education is someone who makes sure that the work they do is not only serving our communities now, but also builds the foundation in all young people within the community, so that they will become involved, knowledgeable Jews as they grow.
Rabbi Carrie Vogel and her team are a group of thoughtful and creative educators who are dedicated to creating meaningful and engaging programs for all of our families. In teaching each child how to find personal meaning in the rituals, liturgy, stories and history of our tradition, they are giving them a way to connect with both the past and the future.  
In this last 10 months, our school community has pivoted in more ways than we could have ever expected. We have continued with one-on-one remote tutoring for third through sixth graders and have provided several opportunities every month for our community to gather online for tefilah, grade-specific Judaic education and community activities such as cooking classes and book clubs. We have provided meaningful Jewish content for families to use when convenient for them. Our team is committed to our most important mission - meeting the needs of our families in any circumstance.
Rabbi Carrie Vogel is being recognized at BJE's "Out of the Box" Gala on February 5.  For more information about who is being recognized and how to participate, please go to www.bjela.org/gala. 
For more information about Kehillat Israel, please click here for their website.