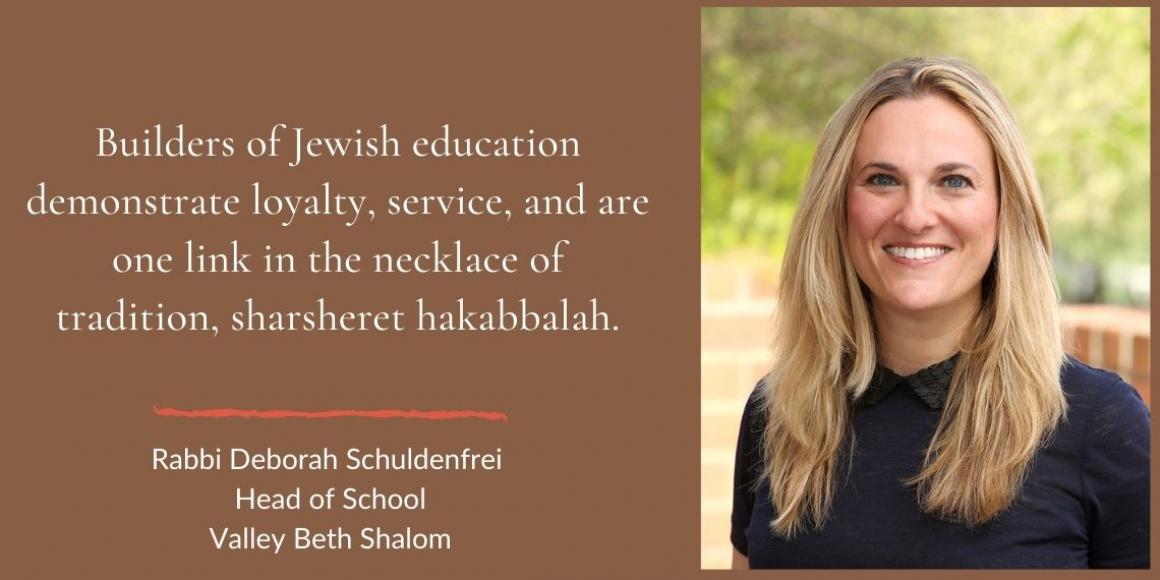 BJE Builder - Rabbi Deborah Schuldenfrei, Head of School Valley Beth Shalom Harold M. Schulweis Day School
Learn today. Lead tomorrow. At VBSDS, Judaism roots all that we learn and teach. Being Jewish means access to thousands of years of wisdom while interpreting the tradition to innovate for tomorrow. Our students learn today to lead tomorrow and they are more successful because of the pride they develop in their Jewish heritage and the Jewish imperative upon them that they can make a difference starting today! Ancient Torah speaks its voice and we answer its call to learn and lead, today and tomorrow.
Committed, rooted, well-versed. Builders of Jewish education demonstrate loyalty, service, and are one link in the necklace of tradition, sharsheret hakabbalah. This chain of Jewish learning is an inheritance, a responsibility, and a key to unlocking the holy secrets of our universe. Our connection and relationship to one another is the centerpiece of this valuable chain, and "builders" preserve and grow these relationships.
At VBSDS, our educators live Torah, speak kindness, and operate with urgency. The Jewish mystics taught us that "this is the time." The firm roots we plant for our children now become the foundation upon which they spread their branches.
Our school is not only surviving through this crisis, we are thriving. Our teachers are in the learning profession. Our staff has pivoted and learned together how to teach remotely, via a hybrid model, and in person during the pandemic. Our community banded together and held our first ever virtual spirit night led by our students, Athletics and Advancement departments. The resolve and resilience of our professionals was quickly mirrored in our students and families.
Rabbi Deborah Schuldenfrei was being recognized at BJE's "Out of the Box" Gala on February 5. 
To learn more about the Valley Beth Shalom Day School, please click here to go to their website.