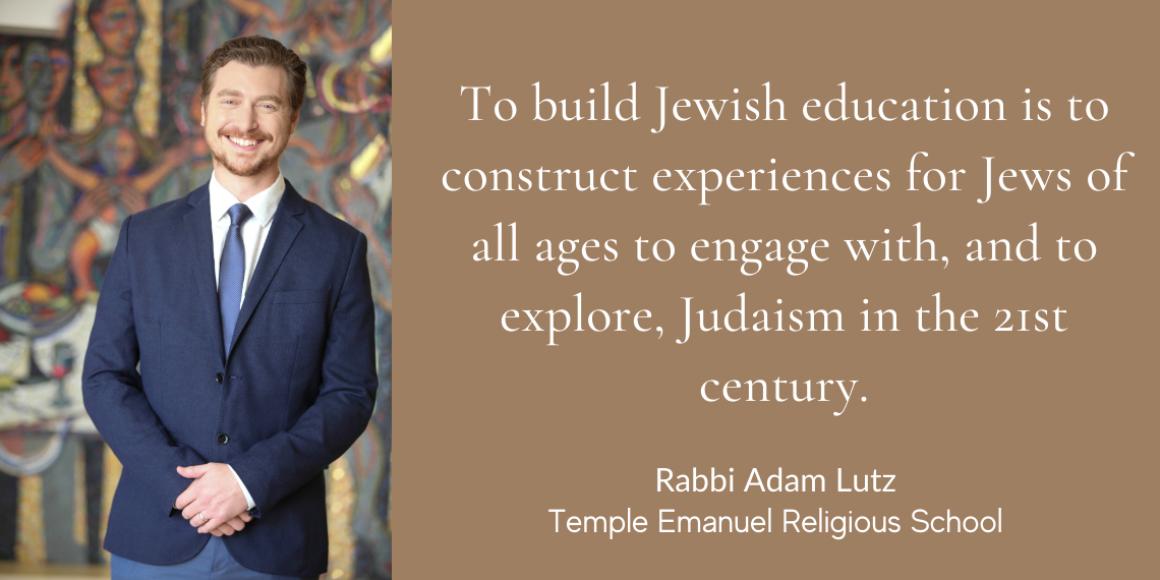 BJE Builder Rabbi Lutz - Temple Emanuel Beverly Hills
Jewish education provides students with a "lab-like environment" to learn, explore, and apply Judaism to real life! Classrooms reflect the real world both in content and social development so that when students leave the classroom and grow up into Jewish adults they understand in their kishkas that Jewish life and values permeate the world.
Being a Builder of Jewish education means a constant effort to bring Judaism to life for the Jewish community, young and old. To build Jewish education is to construct experiences for Jews of all ages to engage with and to explore Judaism in the 21st century. 
Rabbi Lutz' combination of technical prowess, educational expertise, and Rabbinic knowledge has allowed him to develop a religious school that relies upon all three of these skills. Even before the pandemic forced the school to be virtual, Rabbi Lutz incorporated technology and human centered design to create a school poised for the 3rd decade of the 21st Century. Instead of a top-down approach, he listened to the needs and interests of the students and designed a curriculum that would meet the students where they are in life, and show ways Judaism can help them navigate the modern world through Jewish values. Rabbi Lutz' forward thinking approach gives hope for the relevance of supplemental Jewish education in our synagogues, and makes him a Builder of Jewish education in Los Angeles.
Though we have moved entirely online as a result of the pandemic, we have not changed our intrinsic approach to Jewish education, which is project based and real world focused. But the pandemic has caused us to focus even more on the community and relationship building in the classroom. The learning has to be engaging for students to want to participate, but the relationships they build with each other and their teachers are what brings them back each week.
Rabbi Lutz is being recognized at BJE's Out of the Box Gala on February 5, 2021, along with other educational leaders throughout Los Angeles.
For more information about who is being recognized and how to participate, please go to www.bjela.org/gala.
To learn more about Temple Emanuel of Beverly Hills, please click here to go to their website.