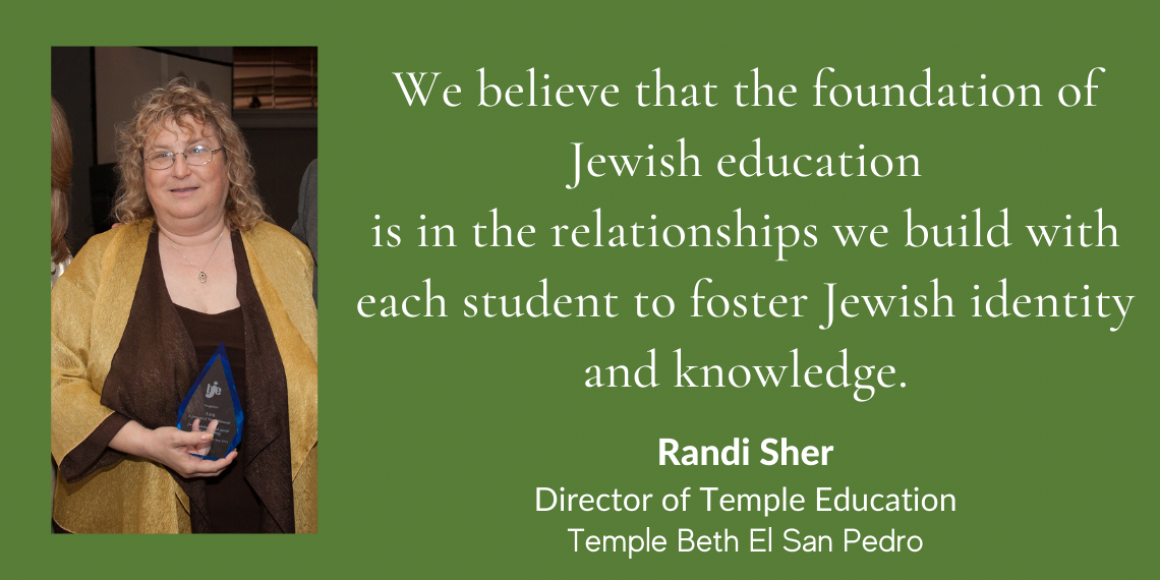 BJE Builder - Randi Sher - Director of Temple Education, Temple Beth El San Pedro
Temple Beth El actively promotes Jewish education among our youth and adults. We pride ourselves on a substantial investment in providing many opportunities to learn about Judaism and Judaic life as it relates to our place and responsibilities in the world. Our future generations gain deeper meaning in their lives through learning about Jewish history and the practice of Jewish values and observances.
A Builder of Jewish education is someone who takes the time to get to know students and meet them where they are. We believe that the foundation of Jewish education is in the relationships we build with each student to foster Jewish identity and knowledge. The Torah school's small size allows for close relationships and meaningful connections. 
Randi Sher is a real Builder of Jewish education. She works hard to make Jewish education accessible to each family, including students with different learning needs and backgrounds. Randi demonstrates that by providing different learning and teaching modalities, all students can be achievers and learn to love their Judaic studies. Randi is not a bystander; she gets right in the instructional setting and participates where appropriate, supporting her teaching staff and consistently providing them with current curricular information. Randi relates to the parents and demonstrates a keen sense of the importance of keeping them informed and asking them to participate as needed. There is a real esprit de corps among all the stakeholders making student success, parental satisfaction, and teacher support all achievable.
In response to COVID, we diligently looked at Torah School hours, sought parent input about their concerns and expectations, and demonstrably recreated our curriculum delivery to address this pandemic and its effects upon education. We strive to balance community connection with rich Jewish content. We offer a balanced curriculum that includes Hebrew, holidays, Jewish values, Torah, and prayer. A weekly tefilah (prayer) experience helps nurture a sense of community, and weekly chugs allow us to bring in artistic, musical, holiday experiences, and other Jewish engagement modalities. 
It has been imperative that our learning and teaching community's relational nature continue to reflect the warm, enriching, and positive nature of our Jewish educational experiences here at Temple Beth-El. Randi's leadership and her strong collaborative style with our clergy result in the best outcome for our temple family. We continue to adapt and develop innovative ways to meet our families' needs, and we look forward to the day when we can embrace and learn in person once more.
Randi Sher is being recognized at BJE's "Out of the Box" Gala on February 5.  For more information about who is being recognized and how to participate, please go to www.bjela.org/gala.
To learn more about Temple Beth El San Pedro, please visit their website here.