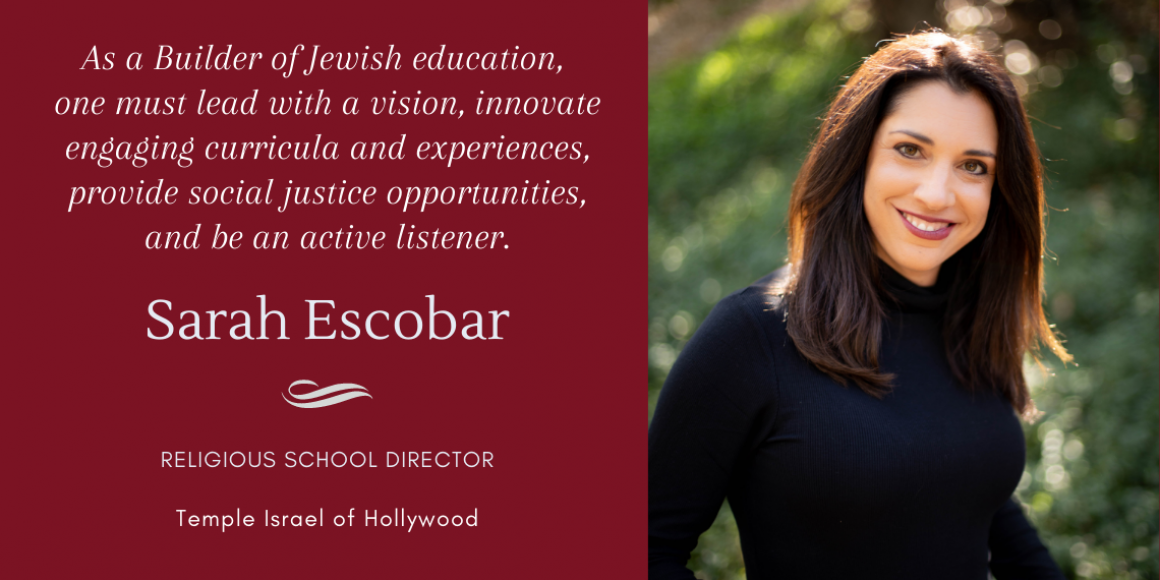 BJE Builder - Sarah Escobar - Temple Israel of Hollywood Religious School
Temple Israel of Hollywood's Religious School is committed to providing a meaningful and joyous Jewish education for its students and families. We value that we are an integral component of the Jewish journey for the many members we serve. We strive to help our students discover and develop their personal and spiritual growth. Our programs aim to deepen our students' connection to Jewish traditions, culture, and community. We also provide opportunities for students to participate in their Judaism actively through prayer, mitzvot and social justice learning. We aspire to create Jewish thinkers and participants of Tikkun Olam.   
Being a Builder of Jewish education means that someone dedicates themselves to inspiring teachers, parents, and students to engage in Jewish life, learning, and being an active participant of the Jewish community. As a Builder of Jewish education, one must lead with a vision, innovate engaging curricula and experiences, provide social justice opportunities, and be an active listener.
Sarah is passionate about creating life-long learners who thrive socially, emotionally, and spiritually. As a leader, Sarah aims to shape creative innovators, critical thinkers, and problem solvers who can make informed Jewish choices, forge Jewish identities, and make positive contributions to the world. Sarah is the Director of TIOH's Religious School and Teen Program. In addition to working with youth, Sarah has helped shape future educators by teaching Jewish Educators across Los Angeles and at the Hebrew Union College-Jewish Institute of Religion. Sarah's innovation and constant experimentation have led to much of the success of the programs she oversees.
TIOH's Religious school has moved its sacred space from our physical building to our families' homes. Through weekly spirited family services, grade-level classes, cooking with CKA, and themed parades with "Kit Kef" pick-ups, there is something for everyone! Throughout the pandemic, our goal has been to hold our families, continue Jewish learning, and create the feeling of connectedness virtually.
Sarah Escobar was recognized at BJE's Out of the Box Gala on February 5, 2021.  For more information about Temple Israel of Hollywood's Religious School, please visit their website by clicking here.