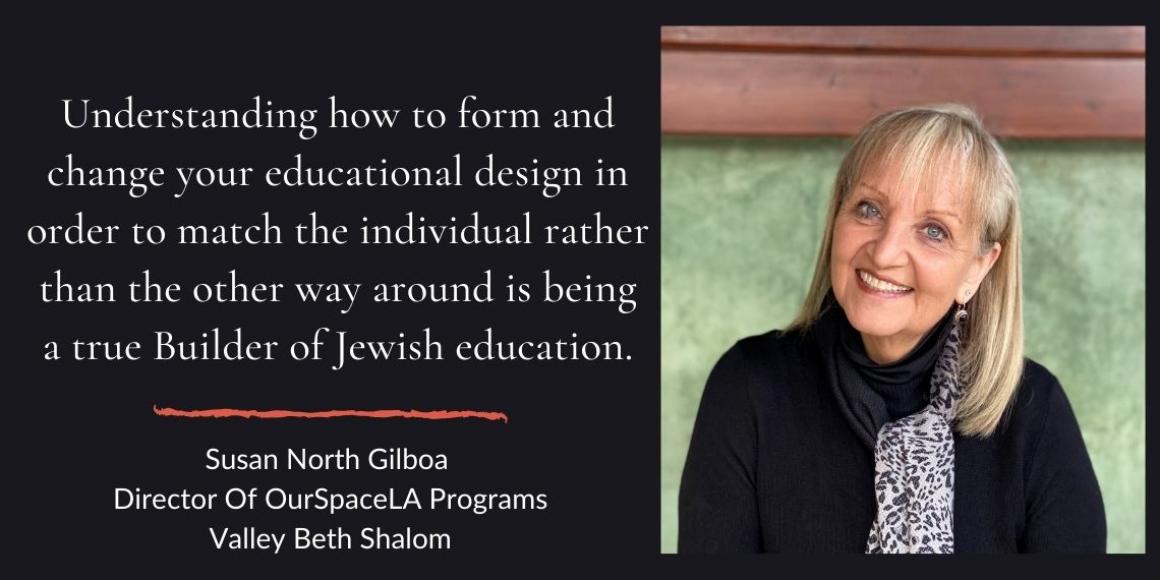 BJE Builder - Susan North Gilboa, OurSpaceLA Director - Valley Beth Shalom
To quote Eleanor Roosevelt, "One's philosophy is not best expressed in words; it is expressed in the choices one makes…" It takes a Kehilah Kedosha, a sacred community, to open its doors regardless of synagogue membership so that everyone can access a full range of Jewish life experiences. Our participants' labels, diagnoses and challenges might prevent them from participating in the Jewish educational programs and social activities designed for "neuro-typical" children.  Since 1984, OurSpaceLA (OSLA) programs at Valley Beth Shalom have provided a welcoming Jewish community for those individuals and their families, regardless of their synagogue affiliation or non-affiliation, thus fulfilling the Jewish mandate to teach Torah diligently to all our children. 
A Builder of Jewish education is one who moves, changes, thinks out of the box, and understands that all education is an array of services, not a specific place. At OSLA, individuals with special needs and unique abilities can find life-long Jewish learning, embrace Jewish values, participate in tikkun olam, and celebrate rites of passage, Shabbat and holidays. OSLA programs offer learning and social experiences that enable participants and their families to become active in society. It is where havurot come together to create friendships and community. 
To be a Builder of Jewish education is to put pieces of a puzzle together; understanding how to form and change your educational design in order to match the individual rather than the other way around. The parents and participants make me a Builder of Jewish education because they choose to show up. They choose to give their children a Jewish education, to nurture their Jewish souls and to help form their Jewish identities. The parents believe that Jewish learning, and living a Jewish life within a community is as important as all the hours they receive of therapies and/or support services. 
Since March, our community has continued to stay connected in meaningful ways. Families have told us that those hours have brought a sense of normalcy, comfort and joy into each week. Thanks to our teachers, music specialists, and arts team, as well as our participants' desire to connect, we have been able to stay connected virtually. OSLA families continue to raise their voices in song, dance, learn, pray, create art, find shechechiyanu moments, celebrate holidays, take virtual trips, participate in tikkun olam, as well as our Jewish rituals and practices.
Susan North Gilboa is being recognized at BJE's "Out of the Box" Gala on February 5. To find out the names of all those being recognized, please go to www.bjela.org/gala.
To learn more about the OurSpaceLA at Valley Beth Shalom, please click here to go to their website.