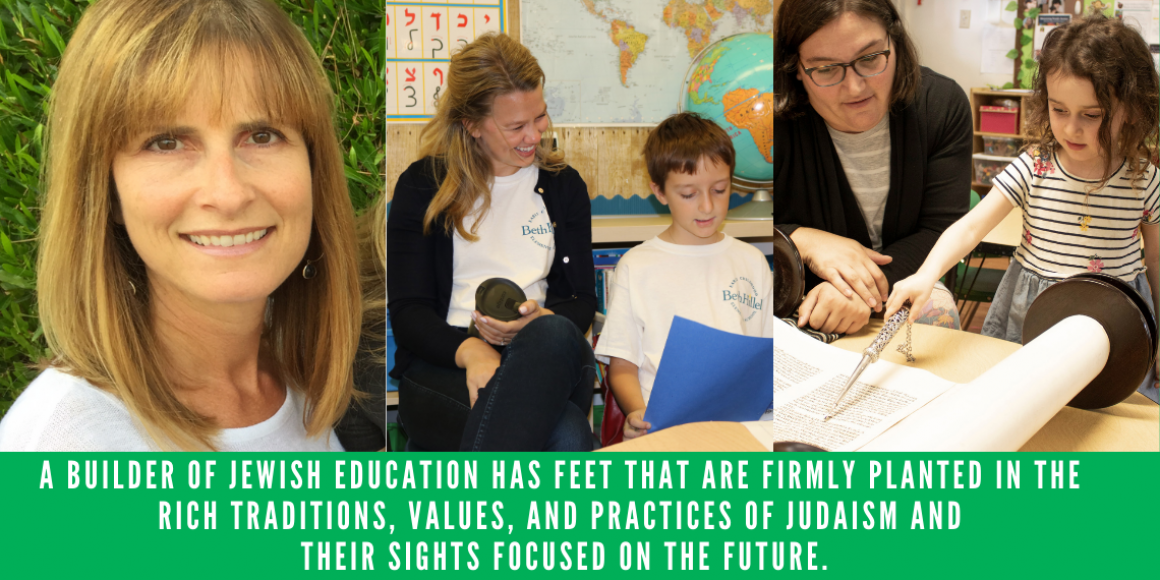 BJE Builders - Claudine Douglas, Kathryn Jensen and Rabbi Keara Stein
Jewish education creates a quiet confidence in our students and shapes the future of our community and the world. Children internalize from a young age the importance of welcoming the stranger, engaging in acts of loving kindness, and viewing the world through a social justice lens. A builder of Jewish education has feet that are firmly planted in the rich traditions, values, and practices of Judaism and their sights focused on the future.
Mrs. Jensen ensures that Jewish values and education are seamlessly woven throughout the entire day across the curriculum. In addition, she has established that children work on character strengths founded within Jewish values, and these are measured and marked in our report cards alongside grades for each of our wonderful children. This helps our students and families live a value filled Jewish life.
Mrs. Douglas supports her students and faculty in forming a strong Jewish foundation and mensch-like behavior in our youngest learners. She is adept with partnering with families in nurturing little souls and developing strong Jewish values such as hachnasat orchim, tikkun olam, b'tzelem Elohim, giving of tzedakah and so much more. Through her leadership our children thrive.
Rabbi Stein oversees the Jewish education of our Temple, with a special focus on our supplemental Religious School, which nurtures the souls and minds of our Kindergartners through twelfth grade. Rabbi Stein encourages engagement in Jewish learning from birth throughout one's adult life acknowledging that deepening Jewish thought can enrich one's soul. 
All of our schools at Temple Beth Hillel have pivoted thoughtfully throughout the pandemic to meet the needs of our community and learners. The learning never stopped and our families remained supportive day in and day out across the pandemic!
Our Early Childhood went remote at the very beginning, but in a commitment to nurturing souls, reopened, welcoming students on campus during the summer. While we had some students on campus, we were able to thoughtfully provide programming for learners at home. Our Early Childhood remains full with committed parents and staff to our youngest learners' social and emotional development. And, still we are careful to provide for at home learners for whom onsite learning may not be the right fit. 
Our Elementary School has provided incredible education throughout distance learning, moving between models of synchronized and asynchronous learning as situations needed. Teachers dug deep and committed to the energy needed to sustain active learning with individualized learning requirements being met along the way. It is beyond exciting to have many of our students on campus thanks to the waiver and to see our school providing thoughtfully for both at home learners and those on site. 
And of course, our Religious School swiftly went to distance learning and then readjusted sails for the learning process as the new school year opened in August, providing thoughtful Jewish and Hebrew education across our many grades. Each of our amazing school leaders developed unique Parent Portals to provide the easiest tool of communication and direction for parents, staff, and students. It is amazing to see our learners able to navigate their learning with very little assistance, to no assistance, from their parents. 
Our school heads work together as a team to navigate the ever-changing guidelines and mandates, staying engaged and shifting learning needs, safety protocols and more each day with grace. Temple Beth Hillel is filled with pride and gratitude to Mrs. Claudine Douglas, Mrs. Kathryn Jensen, and Rabbi Keara Stein. They are a gift to our community and to Jewish education!
Mrs. Claudine Douglas, Mrs. Kathryn Jensen and Rabbi Keara Stein are all being recognized at BJE's Out of the Box Gala on February 5, 2021.  To learn more about how you can participate please go to www.bjela.org/gala.
For further information about Temple Beth Hillel, please click here.