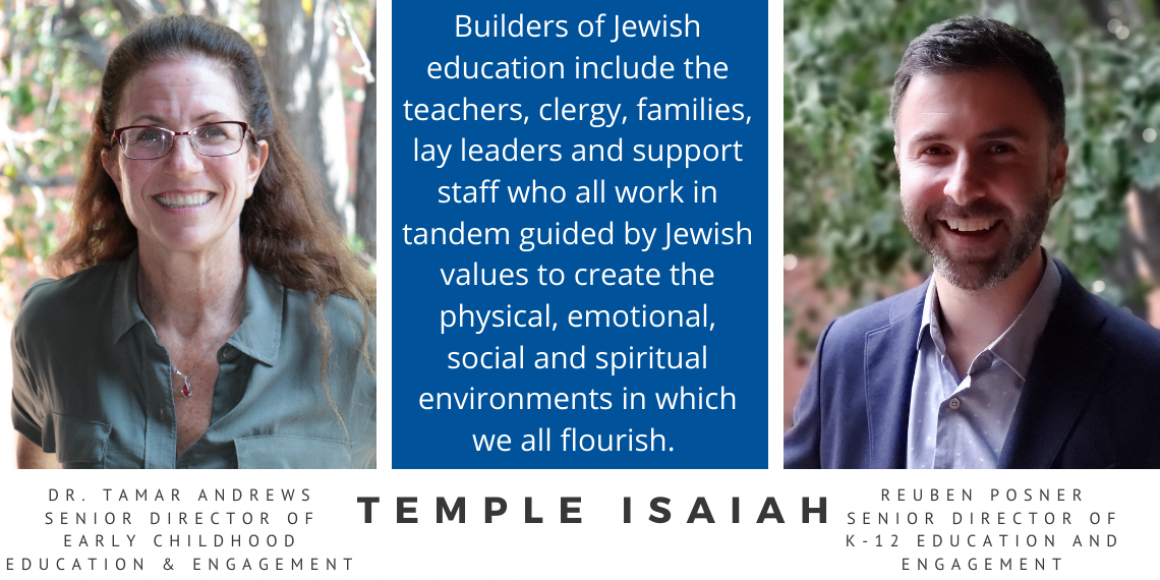 BJE Builders - Dr. Tamar Andrews and Reuben Posner, Temple Isaiah
Temple Isaiah's Preschool and Religious School are a home for our families at the intersection of tradition and innovation. Our core values include respecting ourselves, respecting and honoring others, and respecting and protecting the world in which we live. It also includes the pursuit of justice and tikkun olam. It is exactly the nexus of Jewish tradition and modern innovations that has provided us with the tools we need to raise mensches, build community and repair the world, even today.  
Builders of Jewish education include the teachers, families, clergy, lay leaders and support staff who all work in tandem, guided by Jewish values, to create the physical, emotional, social and spiritual environments in which we all flourish. Our early childhood program and religious school are built by our highly educated and outstanding administrators and teachers, who use the tools of Torah, mitzvoth, learning, compassion, and mutual respect to foster a sense of excitement and joy for Judaism within each child and family. 
Despite the challenges presented to us over the past year, our strength as a community has enabled us to withstand and adapt to the changing landscape of education - to learn from it and thrive despite it. 
 
Dr. Tamar Andrews and Reuben Posner are being recognized at BJE "Out of the Box" Gala on February 5.  For more information about who is being recognized and how to participate, please go to www.bjela.org/gala. 
To learn more about Temple Isaiah, click here for their website.