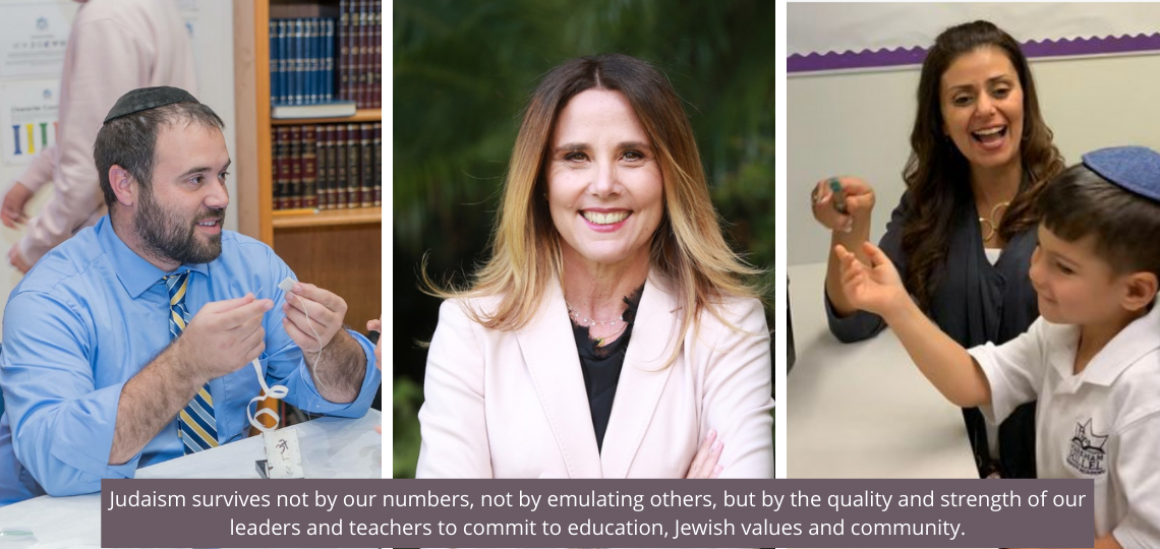 BJE Builders - Rabbi Zach Swigard, Tracey Schreier, Yirat Horwatt - Harkham Hillel Hebrew Academy
The ethos and obligation of Modern Orthodox Jewish schools is to place front and center our deep connection to Israel, a lifelong dedication to learning Torah and a passionate commitment to the continuation and survival of Judaism. When Moses spoke to the Jews as they were departing Egypt, he spoke about how important it is to teach your children. Jews became the only people in history who have predicated their survival on education. Our most sacred duty as parents and teachers is to teach our children where they come from, and to ensure that they know how to teach their own children in turn.
Judaism survives not by our numbers, not by emulating others, but by the quality and strength of our leaders and teachers who commit to education, Jewish values and community.
Our educators ensure that our children know who they are, are proud of their Jewish heritage and know what they want to achieve. We have an important opportunity to help determine how a child will treat learning throughout their life, how comfortable they will be asking questions, and how much of a self-learner they will become. We have the power to create a positive experience for the child so they won't just be a learner when they are with us but will be a life-long learner throughout their lives.  
It was incredible to see every school in the country pivoting to remote learning and creating workable models for their community contexts. This pandemic demonstrated the extraordinary resilience, talent and capacity of our educators and at Harkham Hillel Hebrew Academy and we are ineffably proud to be part of this profession. Hillel's innovative plan was to ensure that teaching and learning continued uninterrupted, that we prioritize continuity of learning, compassion and community. An emphasis is placed on all stakeholders working together to create positivity and optimism during such a challenging time.
Tracey Schreier, Head of Academics, Rabbi Zach Swigard, Head of Jewish Life and Academics and Yirat Horwatt, Early Childhood Director were recognized at BJE's Out of the Box Gala on February 5, 2021.  To learn more about Harkham Hillel Hebrew Academy please visit their website here.