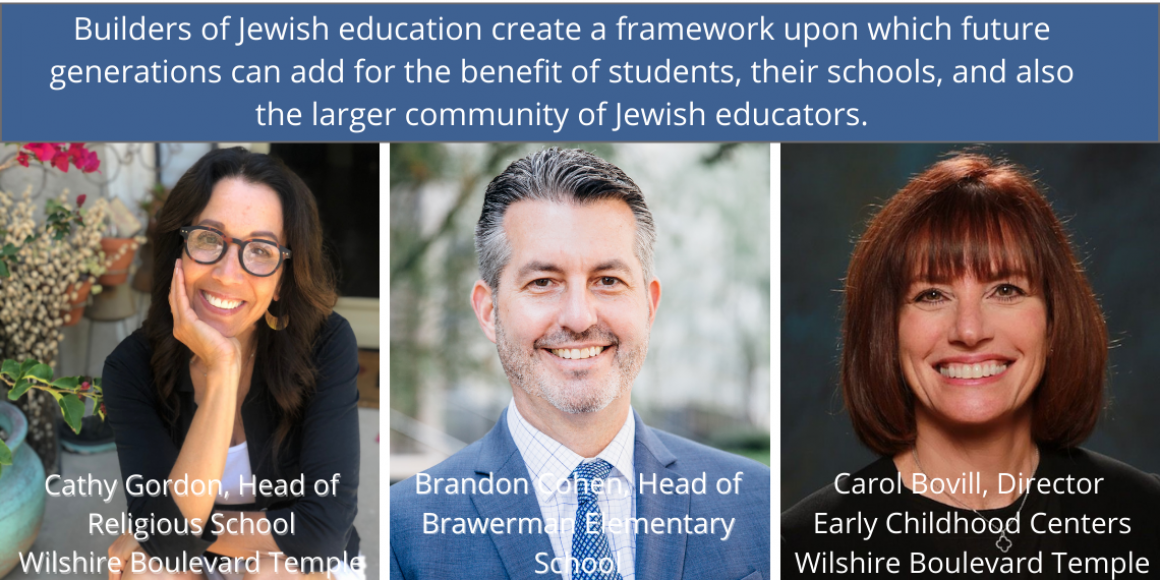 BJE Builders - Wilshire Boulevard Temple
Education is at the core of being Jewish. Our schools are inextricably linked to shaping a fulfilling Jewish life replete with meaning and purpose. From our earliest Baby and Me classes all the way through our after-school high school learning opportunities, the command "you shall teach your children" is integral to all that we do. Jewish values are significant to what makes the educational experience in our schools unparalleled. Surveys of our families show that parents looking for a school might not initially focus on the Jewish aspect, but regardless of which of our schools they attend, they find Jewish values to be an extremely important and enriching part of their experience. Our nurturing kehillah is strong and a meaningful part of the educational experience.
A Builder of Jewish education is committed to finding innovative ways to integrate Jewish learning and content into a multitude of secular and social/emotional subject areas. We know that students who approach Jewish learning this way become adults who live their Jewish values and ethics daily. Builders of Jewish education create a framework upon which future generations can add for the benefit of students, their schools, and also the larger community of Jewish educators.
Many of our educators and administrators were raised in the Jewish tradition, but not all. Yet our foundational Jewish values shape and inform all aspects of our mission and guide our curriculum. Our teachers' tireless commitment and ability to engage students in deeply meaningful discussions set our schools apart. From our first Baby and Me classes to our high school senior retreat, as a synagogue in the reform tradition, our educators apply the central tenets of Judaism to everything they do, emphasizing ethics, reason, and intellect. The administration of the schools imparts to all of our educators the pedagogy that Jewish learning and values are not compartmentalized but woven naturally throughout the curriculum. Our educators motivate our students to explore, ask questions, and be curious; showing students how to make a connection between their Judaic lessons and values, their secular studies, and their identity as an individual. We inspire students to learn: the geography of Israel alongside the geography of California; that Hebrew is the language of our people and our souls and also provides second language acquisition; the fundamentals of sports but also the importance of sportsmanship. In these many ways, all educators at Wilshire Boulevard Temple schools are Builders of Jewish education.
We are proud to say that Wilshire Boulevard Temple schools, in partnership with the Temple, have pivoted to address the challenges posed by the pandemic. Despite the exceptional costs of increased labor, technology, infrastructure, and personal protective equipment, we have operated our early childhood centers, elementary schools, and a K-12 after-school program uninterrupted amidst a pandemic. We have ensured that the values and community of the WBT schools remain a central part of our families' lives by providing unparalleled educational experiences. We've leaned in to new technologies, adapted to online and hybrid instruction while maintaining the highest standards. We've created outdoor classrooms both on and off-campus; we've enabled drive-through and drive-in religious, educational, and even relational experiences. As we are beginning to welcome more students back to campus for in-person instruction, we are finding that our adaptations have served to strengthen our bonds to one another.
Carol Bovill, Brandon Cohen and Cathy Gordon are being recognized at BJE's "Out of the Box" Gala on February 5.
For more information about who is being recognized and how to participate, please go to www.bjela.org/gala.