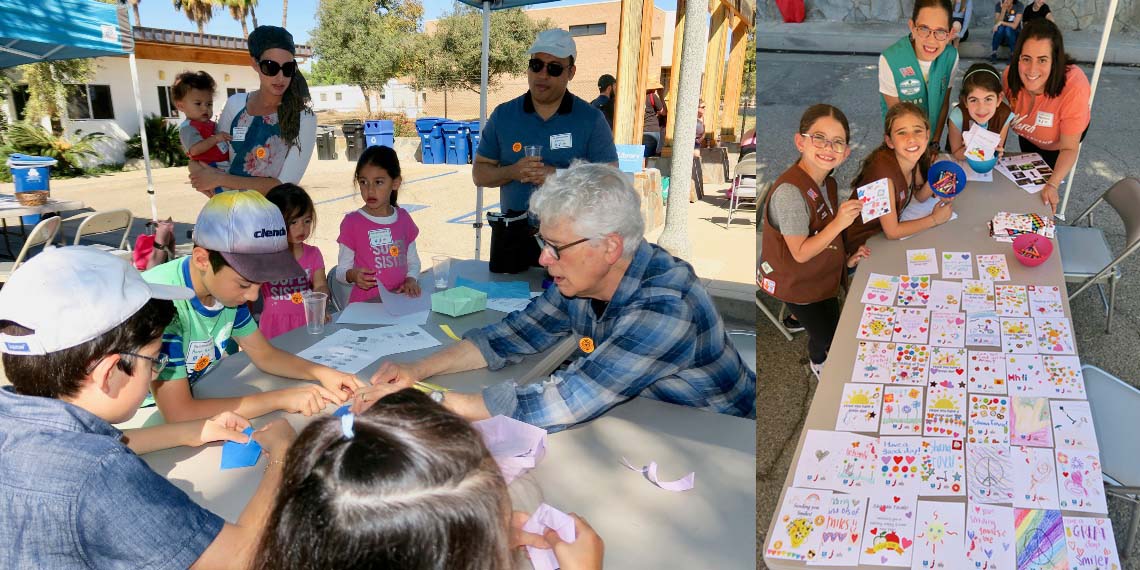 BJE Celebrates Another Successful Day of Service Learning
On Sunday, October 6, more than 80 people gathered at the Japanese Garden in Balboa Park for BJE's fall Day of Service Learning. Hosted by BJE's JKidLA and PJ Library, the event was part of BJE's semi-annual service learning program offered to the community.
Guests of all ages participated in activities, which included making New Year's cards and five different types of origami artwork, which was delivered, to residents at the Jewish Home for the Aging. The theme for the day was Respecting Our Elders and Each Other. Families were also provided with age appropriate discussion questions to engage with their children as they participated in the activities. During the day, groups also assembled to participate in Tashlich, the Jewish High Holy days ritual of gathering at a body of water to symbolically cast off ones sins (in this case bread) and recite prayers of repentance.
BJE's Day of Service Learning is co-chaired by sisters-in-laws Amy Leibowitz and Kimberly Schwarz, with additional support from BJE board members Sharon De Mayo and Linda Resnick. All agreed that the day continued BJE's successful run of service learning experiences for families. "The timing was very special, because it gave people the chance to participate in Jewish reflection and service during the High Holy days," shared the co-chairs. "We were especially moved to hear from individuals and families who said they would not otherwise have had a place to partake in this type of meaningful holiday experience."
BJE's Days of Service Learning are a wonderful way to bring family and friends of all ages together to share in hands-on community service projects and Jewish learning. 
Click here to view photos.  For information about future BJE Service Learning Days or to volunteer, please contact Millie Wexler at 323-761-8631.