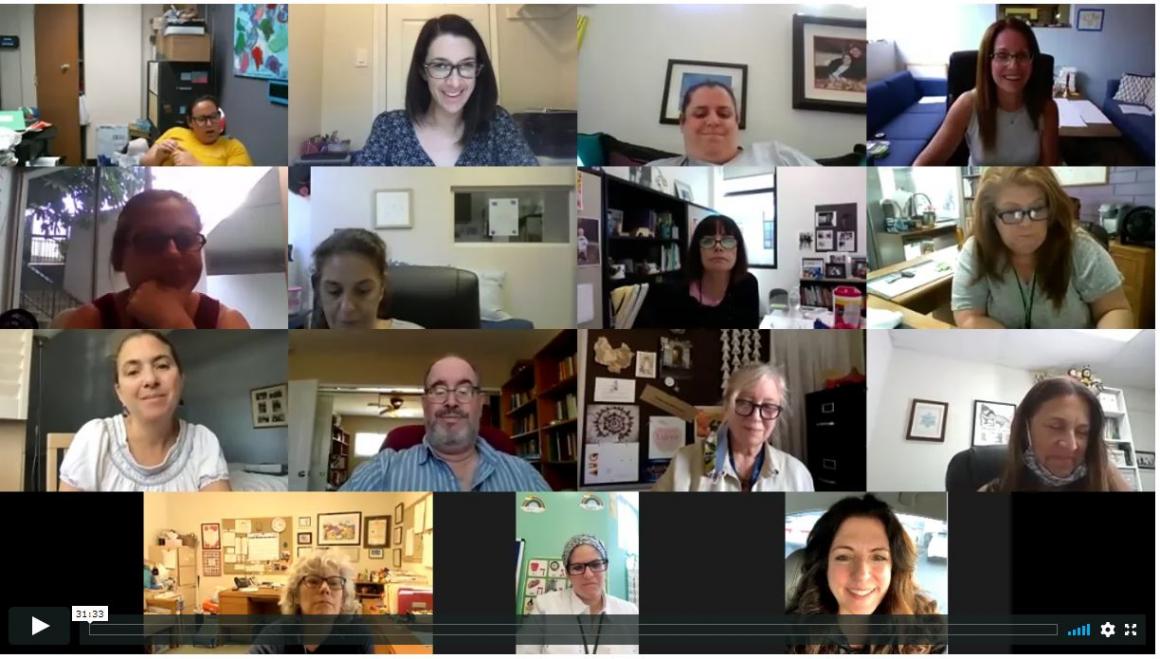 BJE Helps Early Childhood Education Prepare to go Back to School
It is typical to find school administrators and teachers using part of the summer to prepare for the coming new school year. This summer, however, has been anything but typical, as early childhood centers, deemed essential businesses by the State, began re-opening and tackling the monumental task of creating environments and experiences for our youngest children that are both engaging and COVID-safe. BJE has worked with its Early Childhood Directors' Network to help administrators and teachers prepare for this challenging year. 
BJE staff hosted the Early Childhood Directors' Network in ongoing, virtual meetings throughout the summer as schools prepared to open up, mostly in-person. In addition to helping schools tackle practical matters such as establishing protocols to ensure physical safety for children and teachers, BJE brought in experts on how to take care of children's heightened fears and emotional needs, and ways to address teachers' anxieties.
"What we're experiencing now as educators is the most challenging period I can recall in my career, going back more than 40 years. We are considered essential workers, and we ARE essential workers. This experience has revealed that more than ever. I've always appreciated the work with my colleagues through BJE, but this year, BJE's efforts – especially since COVID – have led us to some of the most impressive, meaningful work. I consider myself a lifelong learner, and I'm so excited to learn from my colleagues every week. I've never valued the partnership with BJE more than I do now."
- Donna Becker, Director of Early Childhood Center, Adat Elohim
"I have really appreciated the quality of conversation on our BJE EC Directors' network! The participants share ideas, reach out for resources, and are forthcoming with strategies. Whole handbooks were shared and slideshows emailed to ease another's load. As we strove to reopen schools, the generous PPE "windfall" made us feel supported. Specifically, the positive and upbeat ways of encouraging mask wearing (in the very young) were really heartening. Many thanks!!"
- Devora Zheutlin, Early Childhood Director, Yeshiva Rav Isacsohn Torath Emeth Academy
"We are so grateful to BJE for being right there with us, every step of the way, as we forge a path through this wilderness. Many of us might still be wandering or lost if not for the exceptional leadership and guidance of Carly, Jim and our invaluable Early Childhood Directors' Network (ECDN). Especially helpful resources that the BJE has supported us with include: facilitating meetings with two psychologists to help us prepare not only the children, but ourselves, for returning to school; presentations shared by two directors who developed best practices for their school's re-opening; the revitalized BJE job board; and the lifeline of weekly ECDN meetings. I think I can speak for every director when I say that the collective wisdom, shared resources and moral support of this group has been indispensable. Thank you BJE!"
- Valerie Segall, Director, Early Childhood Education, Ilan Ramon Day School
For more information about BJE's work with Early Childhood Programs, contact Carly Rosenstein, BJE Early Childhood Education Specialist at [email protected] or 323-761-8623.