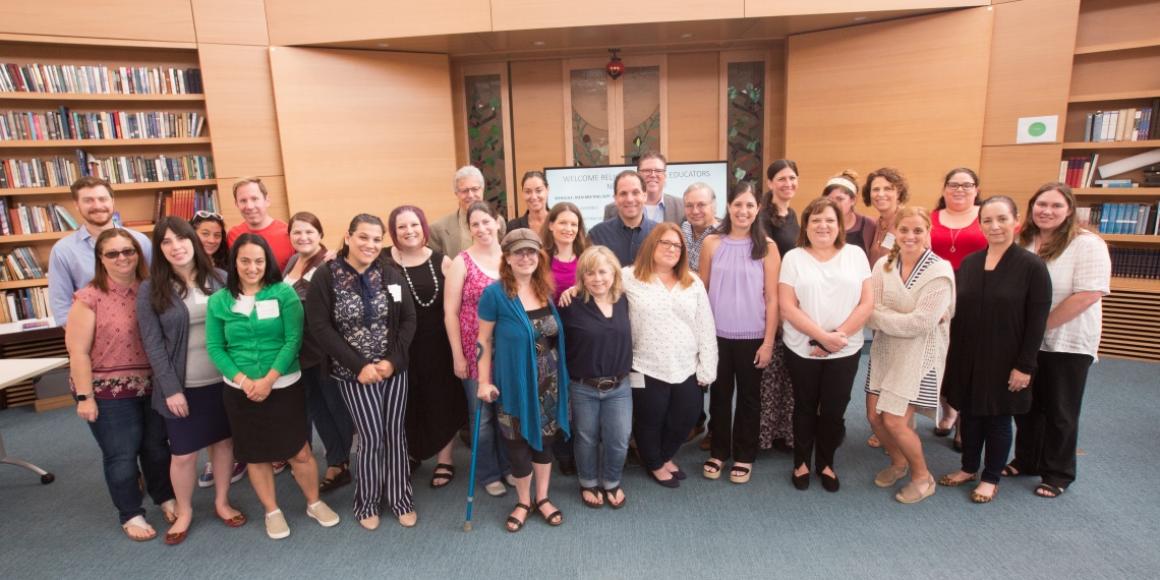 BJE Helps Religious School Educators Think Outside the Box
On September 19, 28 educators in part-time Jewish education programs gathered for the launch of the 2019-20 calendar year for BJE Reshet-LA and BJE's Religious School Educators Network. This year represents continued growth for Reshet-LA, a project designed to help schools innovate, from nine participating institutions in year one, to 15 part-time Jewish education programs in this, its third year.
The year will include a variety of workshops, case study presentations, affinity group meetings, and individual sessions with BJE coaches for administrators, teachers and lay leaders. Participants will also have the opportunity to join their counterparts across the country for a series of national webinars focused on growing part-time Jewish educational programs that help children thrive. Reshet-LA participants as well as educators and board leaders from a broad array of part-time Jewish educational institutions will culminate the year with BJE's Annual Yom Limmud day of learning.
A big focus of last year's Yom Limmud was innovation in post b'nai mitzvah programming. The synagogues that participated last year are already beginning to experiment with new program models to gauge responses from students and parents. Following the success of the work, and interest in continuing to address this area, BJE has added a new post-b'nai mitzvah affinity group to the Reshet-LA program to help interested educators connect with each other on this topic. This year's programming will focus on student-led learning, what that means, and strategies to meet students where they are in meaningful and engaging ways.
For more information about BJE's work with part-time Jewish education, contact David Lewis, Director of BJE's Center for Excellence in Part-Time Jewish Education, or call 323-761-8614. 
Schools participating on September 19, 2019 included:
Adat Ari El - Julee Snitzer
Beth Chayim Chadashim - Rae Antanoff
Kehillat Israel - Rabbi Carrie Vogel
Kehillat Ma'arav - Sharone Weizman
Kol Tikvah - Rabbi Becky Hoffman
Los Angeles Hebrew High School - Rachel Kaufman
Leo Baeck Temple - Rabbi Lisa Berney
Nagel Academy - Chana Leah Margolis
OurSpaceLA - Susan North Gilboa
Santa Monica Synagogue - Lori Daitch
Silverlake Independant JCC - Manda Graizel
Stephen Wise Temple - Stephanie Schwartz
Temple Ahavat Shalom - Rabbi Dalia Samansky
Temple Akiba - Randee Bishoff
Temple Aliyah - Natalie Horwitz and Rabbi Adam Schaffer
Temple Beth Am - Amir Orbach
Temple Beth David - Cantor Orly Campbell and Gal Kessler Rohs
Temple Beth El - Racheli Morris
Temple Emanuel Beverly Hills - Rabbi Adam Lutz
Temple Judea - Rabbi Bruce Raff
Temple Menorah - Rabbi Rebeccah Yussman
Temple Ramat Zion - Julia Levine
University Synagogue - Ellie Laycook
Valley Beth Shalom - Keri Loventhal
Valley Outreach Synagogue - Carla Adivi
Wilshire Boulevard Temple - Lisa Alpern