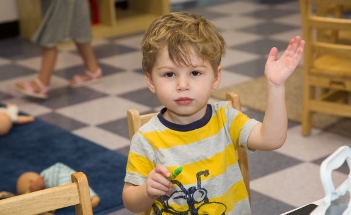 BJE to Hold Annual Conference for Early Childhood Educators
On March 16, 2020 BJE will hold its annual Bebe Feuerstein Simon Early Childhood Institute. The conference provides early childhood educators with an opportunity to learn and practice new skills, network with other educators, and grow as professionals.  Due to the Coronavirus the conference this year will be held online.

This year's conference will focus on the theme "The Whole Educator." The day will begin with featured keynote speaker Tina Payne Bryson, Ph.D., co-author of The Whole Brain Child, No-Drama Discipline and The Yes Brain. The keynote is sponsored by Sanford and David Weiner, in memory of their beloved wife and mother Karen Weiner, a long-time director of the BJE board with deep commitment to early childhood education. The keynote's focus is on better understanding the role of experience and focused attention on the ever-developing brain. Using stories, examples, and a lot of humor, Tina encourages teachers to keep their own developing brains in mind as they nurture their students' growing minds, as well as to apply their new knowledge to classroom management and their teaching styles. 
The Bebe Feuerstein Simon Early Childhood Institute is one of several BJE programs that offers quality professional development to early childhood educators. This annual conference attracts over 300 early childhood teachers for a day of learning, skill building and professional growth.