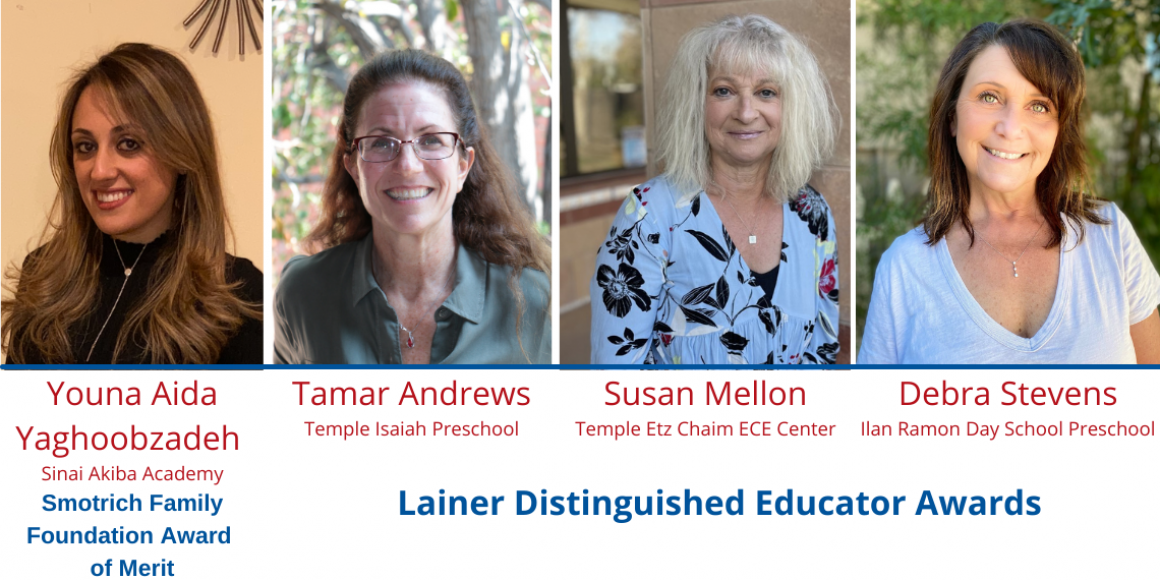 BJE Honors Four Early Childhood Educators with 2021 Lainer and Smotrich Awards
In a year that has presented challenges beyond what anyone could have imagined, educators have risen to the challenge. On March 15, four educators from BJE-affiliated early childhood programs received awards, recognizing both their incredible work in the field of education prior to the start of the pandemic, and their extraordinary efforts since.
BJE's Smotrich Award is given annually to an "up and coming" early childhood teacher – one who has completed two to seven years of teaching. The winning teacher receives a $1,000 prize, and the school receives a $500 prize. BJE's Lainer Award is given annually to up to three veteran teachers – those who have been teaching for at least eight years. The winning teachers receive a $2,500 prize. The awards are made possible through the generosity of the Smotrich Family Foundation and an endowment established by the late Simha and Sara Lainer.
Recipients are chosen from among nominations submitted to BJE. 
The Smotrich Family Foundation Award of Merit for Early Childhood Educators was presented to Youna Aida Yaghoobzadeh of Sinai Akiba Academy.
The Simha and Sara Lainer Distinguished Educator Award for Early Childhood Education was presented to: Dr. Tamar Andrews of Temple Isaiah Preschool, Susan Mellon of Temple Etz Chaim ECE Center, and Debra Stevens of Ilan Ramon Day School Preschool.
Read what their nominators said about each of them:
Youna Aida Yaghoobzadeh of Sinai Akiba Academy 
Youna is a gift to the field of early childhood education; she brings the kind of compassion and intelligence that is needed for parents to feel that their children are in a safe and nurturing environment in the hands of a highly qualified educator. She is a professional in every sense and reminds us of how important early childhood education is for the social and emotional growth of our youngest children. She is the epitome of what a Jewish educator should be and is a true asset to our program.  
Dr. Tamar Andrews of Temple Isaiah Preschool 
In addition to being the director of Temple Isaiah Preschool, Tamar is also a professor of Early Childhood Education and strives to professionalize the field by training Jewish ECE teachers through a BA and Master's program at AJU. She sets aside substantial resources from her own institution to support the professional development of the teachers that work for her and has trained and mentored many teachers and educators that have gone on to become directors at other schools. While Tamar has so much experience and knowledge, she gives everyone she works with tremendous respect, no matter their experience. Tamar is a true role model to the ECE Jewish community in Los Angeles. 
Susan Mellon of Temple Etz Chaim ECE Center
Susan believes that every child has the ability to learn beyond what is expected. She plans her curriculum and learning activities with the goal of helping each child to be confident, curious and competent learners. Susan loves teaching. After 23 years of teaching here, she continues to research new curriculum ideas and topics to bring to the children in her classroom. She has been an active member of our synagogue and helps make everyone feel a part of our temple and the Jewish community. Susan is a wonderful leader within our staff and an excellent role model. The other teachers look to her for advice on every aspect of teaching.
Debra Stevens of Ilan Ramon Day School Preschool
We like to laugh at the unique "compliment" our Head of School paid Debra during her first weeks with us: "I think Deby is the kind of teacher who can create a whole curriculum out of just a stick and a rubber band." Over the years that has remained as true as ever, and Deby's passion for emergent curriculum, outdoor explorations and child led investigations continues to flourish. She has earned an ardent following of parents who appreciate her firm yet compassionate classroom management and her fierce dedication to each individual child's growth and development. As a seasoned teacher who knows her stuff, Deby is confident, independent and a self-starter. She is highly motivated to provide the most meaningful and substantial growth opportunities for her classes and is without a doubt a teacher of excellence!