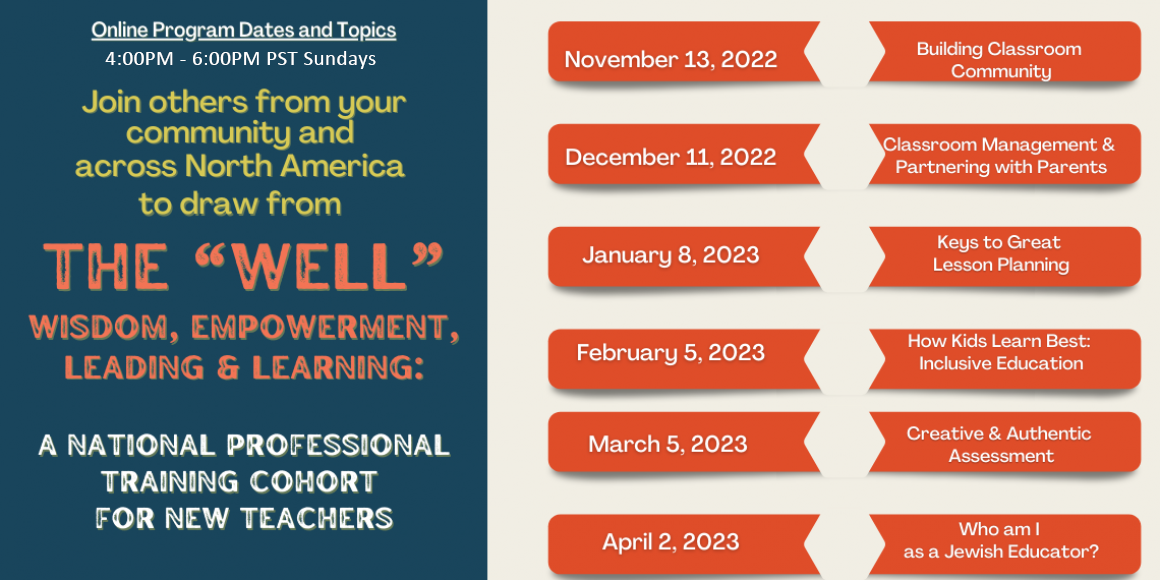 BJE Launches New Fellowship for Religious School Educators
This fall, BJE is running a professional learning fellowship for newer teachers in supplemental Jewish education settings. The Well: Wisdom, Empowerment, Leading & Learning is a national program, conducted by BJE in collaboration with its national partners in a network known as "Shinui," the Hebrew word for change. The goals of the program are to help newer teachers gain skills that will enhance their instructional techniques and build their confidence and knowledge as Jewish educators, and provide the opportunity for regular reflection with a local cohort of colleagues.
Many Religious Schools brought on new teachers as they moved back to in-person instruction.  The WELL provides a series of six online seminars facilitated by subject matter experts on core skills required in Religious School teaching: building classroom community, classroom management, partnering with parents, keys to great lesson planning, inclusive education, assessment, and "who am I as a Jewish Educator?"  David Lewis, Director of BJE's Center for Excellence in Part-Time Jewish Education, will facilitate discussion and reflection on the learnings of each session with L.A. participants.  
"I appreciate that the WELL is offering shared resources to guide educators new to the field, said Rebecca Berger, Director of Education at IKAR. "At a time when many synagogues are facing high turnover, the WELL provides critical support for teachers who, as a result of this training, will not only feel more confident in their pedagogic skills but will also gain a cohort of like-minded learners to turn to. Most importantly, the WELL fosters teachers' own Jewish identities as teachers explore for themselves what it means to be Jewish educators."
The program is open to faculty at BJE-affiliated Religious Schools who began teaching over the most recent 15 months.  Participants who successfully complete the program (by attending all six sessions, at least five "real time") will receive a stipend of $250.  
For more information about the WELL, please contact David Lewis, BJE Director of the Center for Excellence in Part-Time Jewish Education.