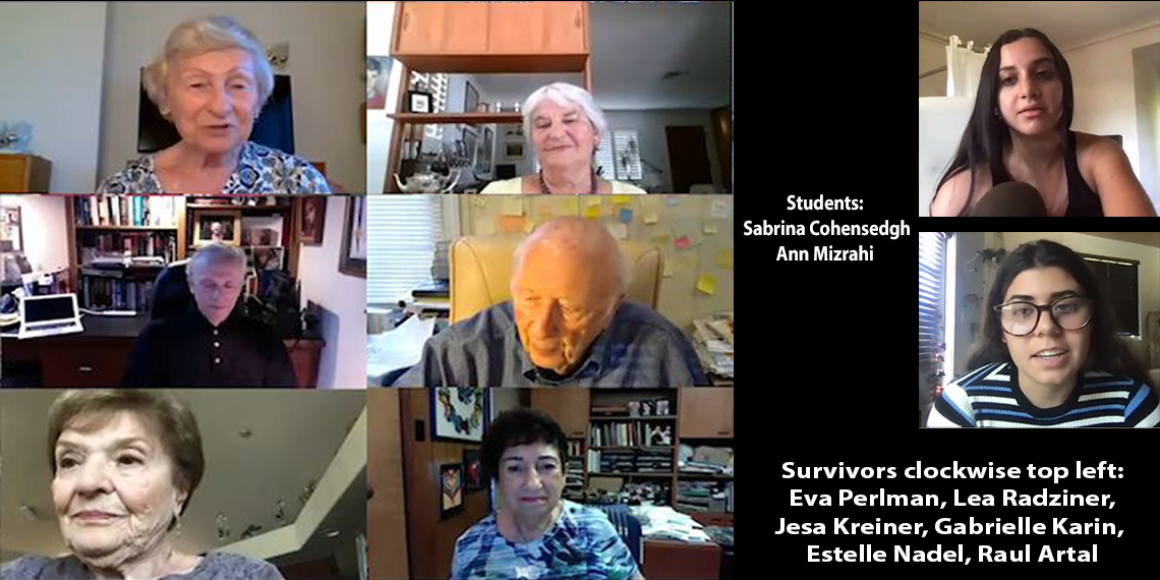 BJE March of the Living Teens Help Lead Survivors Talk Series
When BJE's March of the Living program was cancelled due to the pandemic, the staff worked quickly in order to provide the 220 participating teens with a meaningful experience despite the disappointment. After participating in a virtual Yom HaShoah program with the survivors who would have traveled with the group, Ann Mizrahi from de Toledo HS and Sabrina Cohensedgh from Milken reached out to BJE's Liat Vorobiev and Maya Aharon to ask how they could be more involved with the program.
As it turns out, BJE has been working on a BJE MOTL Survivor Talk series, and was thrilled to have Ann and Sabrina play a role. On Friday, May 15th, Estelle Nadel kicked off the series by sharing her story of bravery and resilience. Teen and adult guests joined the call, and were able to ask Estelle questions at the end facilitated by Ann and Sabrina. Click here to watch the recording of the call.
 
Sabrina shared her feelings about the experience, saying, "Not being able to physically go on MOTL means it's up to us to hear the survivors' stories. Being Jewish is a responsibility and personally I feel I need to use my Judaism and beliefs to my advantage. Being involved in MOTL and hearing the Survivors' stories makes me a witness to each and every story. It is now my job to continue sharing their stories and never forget what truly happened in the Holocaust."
Added Ann, "Even though we were not able to physically go on the MOTL this year, hearing Survivors' stories keeps inspiring me to learn from the horrid injustices endured and think how we, as the Jewish people, ensure we stand against injustices anywhere. We must never forget. I am so grateful to have the opportunity to learn from such strong and truly incredible individuals."
On June 5th, BJE will continue the BJE MOTL Survivor Talk Series with Lea Radziner. Over the course of the summer, the team plans to host a talk with each of the six Survivors scheduled to accompany the 2020 BJE March of the Living. The goal of the Survivor Talk Series is to let the teens connect with the Survivors and know and feel that they are very much a part of the BJE March of the Living family despite the inability to travel to Poland and Israel together.
For information about BJE's March of the Living, click here.  If interested in receiving information/to get the zoom link, please email Liat Vorobiev here.