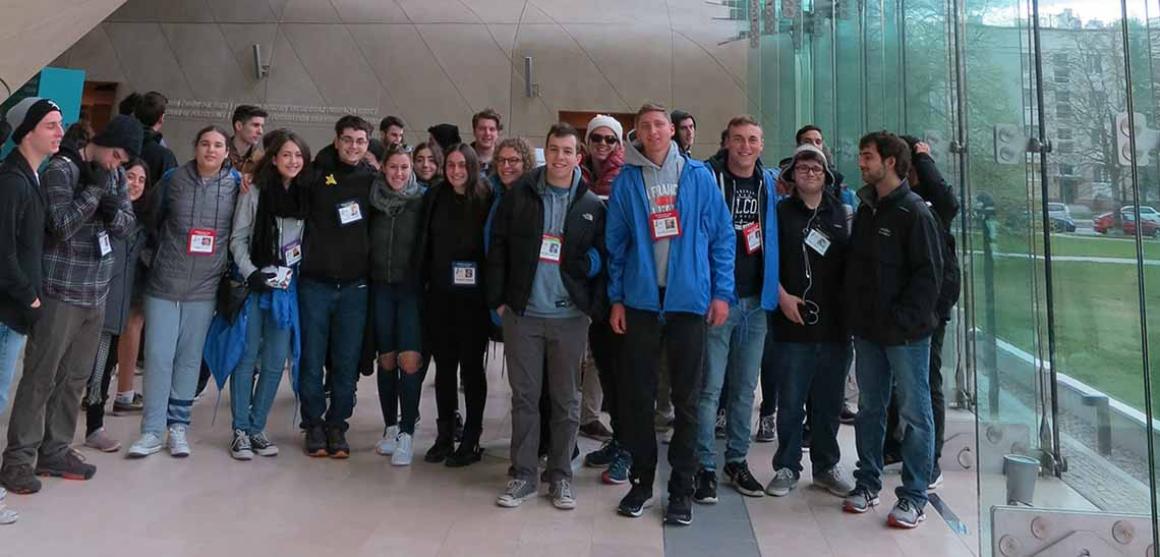 BJE March of the Living Teen Michael Schulman Reflects on the Trip
By Michael Schulman
The March of the Living trip was by far one of the most meaningful things that I have done in my life. It was truly something I will never forget. I am so thankful and privileged that I had the opportunity to go this year with an amazing staff and most importantly five incredible survivors. The stories of the survivors were inspirational, and I am even more amazed that after all the horrible things they have experienced they are able to maintain a positive attitude in every aspect of their life.
They were the main reason why I wanted to go on the trip. I am well aware that we do not have much time left with the survivors, and I as a Jewish teenager I see it as a responsibility to tell their stories. Another reason I went was because March of the Living is very important for my peers at Milken and the larger Milken community. For a long time Milken has sent the majority of their senior class on the trip, and as students we take a lot of pride in going. Like most Milken students I have waited since 9th grade to go on this trip, and it was by far one of best moments of my senior year. It was even more meaningful to me that three of the survivors who were on our trip were at my High School graduation.
I have taken many courses on the Holocaust in school, but this was different. It was much more personal and much more emotional than I could have ever imagined. There were some very tough days especially in Poland. We visited a mass grave in the middle of a forest where over 800 hundred Jewish children were brutally beaten to death. I could not even fathom as to how a human being could do that to innocent children. As one of the oldest in my family, I couldn't help but think about my younger brother and my little cousins. While it was of the most of horrific things I have ever witnessed in my entire life, I use it as a reminder to do all that I can to fill the world with loving-kindness. As we walked out of the forest we cried we hugged, I felt extremely close to everyone on our delegation. Our delegation would never be the same after that moment. 
Another meaningful part of this trip was experiencing Yom Hazikaron (Israel's memorial day). This trip was my first time in Israel. I have always known that Israel is an incredible place, but on that day I witnessed how amazing Israel really is. In Israel there are no barbeques or shopping sales like there is here. A siren is blasted to honor the lives of those who were lost defending the state of Israel. We were in a park when the siren went off. One by one, I watched every car on the street stop, and everyone got out of their cars and stood up straight in silence. For a couple minutes the entire country stopped and united together to remember the people who lost protecting the state of Israel. It did not matter what age they were or what political party they stood for, everyone paid their respects. It was one of the most unbelievable things I have ever seen, and especially now in America I think we can learn a lot from the Israelis. 
Also this trip for me was also about building relationships. On the Marches themselves I met Jewish teenagers from across the world from places like Australia, South Africa, Brazil, and Canada. Even though we are a small people, for just a moment on those marches it felt as though we are very large and very mighty. It is incredible knowing that all over the world there are people just like me who share the same Jewish values and belief in a Jewish state. After those marches through Auschwitz and the Old City of Jerusalem I felt hopeful for the Jewish future knowing that it would be led by these people.
The March of Living trip did not just end when we landed at LAX, now I have an obligation to share what I have seen and all that I have learned. The trip taught me what evil human beings are capable of, but I also reminded me what the best of humanity can accomplish. Going forward, I have duty to spread as much kindness, justice, and love as I can to rid the world of hatred. As I venture off into new places, the March of the living will always be apart of me. I am and will always be a proud Jew. Wherever I go and whoever I meet, I will tell them the stories, and I will them about the incredible people I met. 
Michael Schulman, a recent participant in BJE's March of the Living program will be attending George Washington University in D.C. this fall.  He just graduated from Milken Community High School and attended Valley Beth Shalom Day school - both BJE-Affiliated schools.