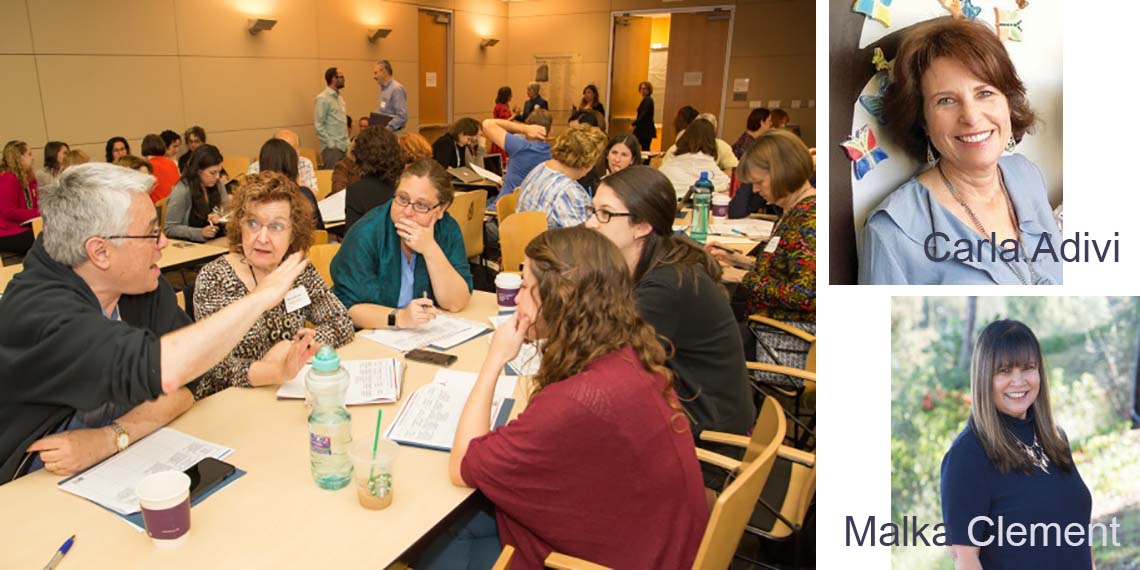 BJE Offers Teachers a Wide Array of Educational Opportunities
Ever wonder how your teachers get so smart? Well, we can't take all the credit, but BJE does provide ongoing professional development opportunities for teachers in day schools, early childhood and part-time Jewish schools. Read on for more information about some of the varied programs available to teachers in Jewish schools just this fall!
September 19 – The Religious School Educators Network gathered for the opening program of the 2019-2020 year.
"The Religious School Educators Network proves to be an invaluable resource in terms of providing me with relevant, meaningful and thought-provoking fuel for the daunting yet exciting task of re-envisioning Jewish education." Carla Adivi, Director of Education at Valley Outreach Synagogue
September 23 – BJE's Judaic Studies administrators network kicked off the year with a program focused on: how do we assess students in Judaic Studies? How do we define mastery? 
"The first meeting of the Judaic Studies Community of Practice was a wonderful opportunity for administrators to have an honest and open conversation about matters that are of great interest to us. The more we discuss shared topics of interest, the more we can serve our school communities. Our mindset should be that Jewish Day Schools are not competing with each other but rather working together to strengthen Jewish Education." - Malka Clement, Wise School Director of Hebrew and Judaic Studies
September 24 – The first workshop of the Day School Legal Consortium was held for Heads of Schools, with a focus on trends in private school law, with attorney Michael Blacher of Liebert Cassidy Whitmore. 
 
September 26 – BJE's General Studies Administrators Network kicked off the year with a program focused on how parent and student anxiety impacts staffing, programming, test taking, and pedagogy.
 
October 28 – BJE's Special Needs Educators participated in a session on Executive Functioning: Emotional, Behavioral and Educational Implications. Discussions included the role of schools and parents in supporting students; impact of technology on executive function; and student responsibility and building grit.
 
October 30 – BJE's ECE Directors Network held an event on Mindfulness, Stress, and Practical Strategies for Working With Our Teachers Who Are Experiencing Daily Stress. After keynote speaker Deena Margolin, LMFT, presentation, participants joined breakout groups, led by local ECE Directors, for robust discussions on what mindfulness looks like in their schools.  
 
October 30 – Hebrew language teachers gathered for a Project Based Language Learning program, where they participated in either K-5 or 6-12 workshop, led by Orly Lavi Travish, Dr. Esty Gross and Carmit Borshtein.
 
October 30 – Religious School Educators Network participated in a National Webinar on Thriving: Entering a New Paradigm for Jewish Education with David Bryfman.
 
November 10 and 11 – BJE held the Admissions Professionals Institute, conducted by PRIZMAH staff. Topics included: Admission policy and operations, customer experience in recruitment and retention, data collection, analysis, and reporting.
 
November 13 – BJE held a webinar for its Day School Legal Consortium on Managing Student and Employee Internet/Social Media Use.
 
November 17 and 18 – The annual NAHET conference was held in NJ for Hebrew language educators. BJE provided support for 14 teachers from LA to attend thanks to a grant from the Miller family.
 
December 5 – The Religious School Educators Network will participate in a National Webinar on Thriving: Positive Psychology Meets Jewish Education with Sarah Rosenblum. 
​ For more information about BJE's professional development opportunities for educators, click here.