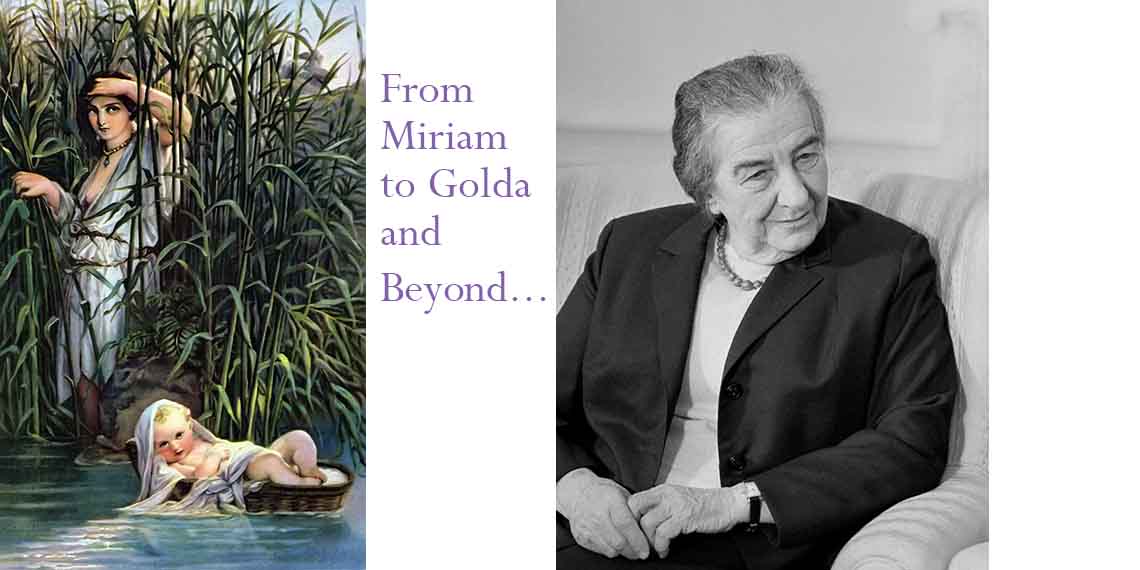 Building the Jewish Future: Women's Leadership, Then and Now
As the calendar turns to 2019, Jews around the world are, through the cycle of weekly Torah study, reconnecting with the Biblical account of oppression in Egypt and the experiences leading from slavery to freedom.  In the early chapters of Exodus, women play an out-sized role in setting the stage for the Israelites' redemption.  From the midwives who disobeyed Pharaoh's orders to murder Hebrew boys at birth, to Moses' mother and sister who protected and watched over the "illegal" child, to the daughter of Pharaoh – who, though recognizing that the child in the basket floating on the river was, likely, a Hebrew, took the boy (whom she named Moses) to be raised in the palace -- women are central to building the Jewish future. 
I reflect on these women not only because of the Torah narrative of the week, but because of the passing, during the month of December, of three women of significant impact.  Each, in her own way, was a builder of the Jewish future.  These women were: Bella Bergman, Dorothy Greenstein and Barbara Yaroslavsky.  
Born in New York, Bella Bergman moved to Los Angeles, post-World War II, with her husband, Rabbi Benzion Bergman.  When she was a child, in the 1930s, Bella's family lived in Israel, several years; from this encounter, Bella developed a life-long passion for the Hebrew language.  Returning with her family to New York, she attended and graduated from the Herzliah Teachers Seminary.  In Los Angeles, Bella taught generations of students in settings ranging from L.A. Hebrew High School to CSUN to BJE, where she served as Head Consultant to Conservative Religious Schools for many years.  Bella authored Hebrew textbooks that remain in use; beyond the print materials she produced, Bella served as a mentor and role model to people of all ages.  
Dorothy Greenstein was born in Otwock, Poland.  Surviving the Holocaust (in Poland), she made her way to Canada, where she met and married her husband, Allen; the couple moved to Los Angeles, in 1963.  Dorothy was, for many years, a beloved teacher of children in primary grades, at the valley's fledgling Emek Hebrew Academy.  In more recent years, Dorothy travelled numerous times to Poland and Israel with BJE's March of the Living, recounting her pre-war and Holocaust-era experiences to successive cohorts of teens.  That Dorothy lived to see L.A. Jewish teens and Polish Catholic teens join in cleaning gravestones in the Jewish cemetery of Otwock was a source of amazement to her and an inspiration to young people the age of her grandchildren.
Barbara Yaroslavsky, a "baby boom" native of Los Angeles, personified commitment to the Jewish people and to the well-being of others – twin commitments that she shared with her husband, Zev.  Her involvement with BJE spanned many decades.  A member of BJE's Advisory Board, as recently as September she actively participated in a BJE committee meeting (there was no such thing as Barbara's not being active at any meeting she attended) relating to educator recognition.   When Barbara would come to a BJE meeting, it was not uncommon for her to be arriving from another volunteer project, board or commission and to be heading to yet another such function, that day.  Her dedication to each worthy cause was boundless, and her impact – making a difference in each setting – was considerable.  
Bella Bergman, Dorothy Greenstein and Barbara Yaroslavsky were builders of Jewish life in Los Angeles and beyond, in the twenty-first century.  As in the narrative of the exodus from Egypt, the role of these women in their own time and in setting the stage for the future cannot be overstated.  The generations touched by their leadership will continue to draw strength from their guidance and example; memories of them, as their lives, are an enduring blessing.  
Dr. Gil Graff is the Executive Director of BJE