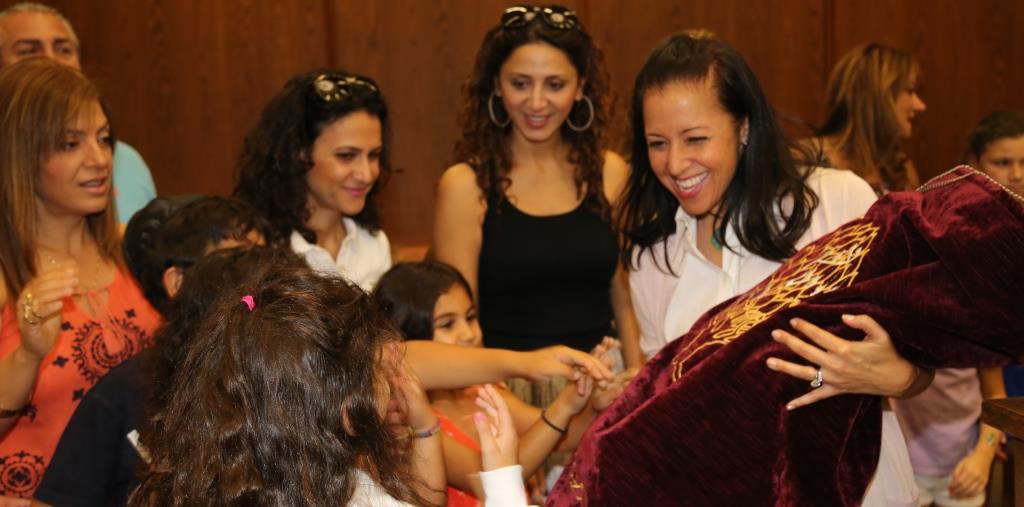 Danielle Kassin, Religious School Director, BJE-Affiliated Sinai Temple Religious School
I am privileged to have been at Sinai Temple for most of my life. I taught at Sinai Akiba for three years and I also taught in the Religious School. I actually met my husband at Sinai Akiba in the 4th grade and our children are now in school at Sinai. One of the things I love about Sinai is that there are so many different communities within the larger community. The Religious School (STARS) is one of these sacred communities.
There are many things that I think are extraordinary about our Religious School. The community has a huge passion for Israel and embraces Jewish traditions and rituals wholeheartedly. The clergy, teachers and I come together with the Religious School families for events like Havdalah in the Hood, where we go to a family's home to honor, sing, dance, shmooze, and welcome in the new week. We celebrate Tashlich each year at the beach, we do monthly STARS Shabbats, retreats and camping trips together!
In our kindergarten – 2nd grade classes, we focus on the concept of "dancing Judaism!" We want to lay the foundation, the scaffolding, to get kids excited about being Jewish. We have them smell and taste Judaism by baking and eating challah, students get to dance and sing and pray Judaism, they even have tech time where they get to "play" on iPads to learn the Hebrew alphabet and about the Jewish holidays. Our Kindergarten teacher says that her goal is to have students skip to her classroom on Sunday morning!
In our 3rd grade classes, one way we learn about Israel is through the Jerusalem Café. The students learn how to be 'waiters in Jerusalem.' They practice Hebrew while serving their parents Cafe' food. Our 4th graders do research projects on the cities in Israel and present their work at the end of the year during a service followed by a family Shabbat dinner. After dinner, we sing Happy Birthday to Israel over a blue and white cake.
In our 5th-7th grade classes students learn through experiential education. The curriculum is designed to give students choices and once a month we offer electives. Students can choose from classes like Sports Ruach, TechnoJew, Sinai Earth Explorers, Midrash and Art and even Fashion in Judaism. We want to show our students that we can live Judaism in the present and that it is not just in the walls of Sinai Temple!
I think one of our great assets is our professional and dedicated staff. I am lucky to work with a team that is enthusiastic, hard working and striving to help instill a love for Judaism in our students. I am very thankful to work with such a talented group of educators who continue to help create and improve the STARS program.
I am blessed to be part of the Sinai Temple family. My hope is for our children and our community to spread the knowledge that they get at STARS, their passion for Israel and kindness to others, and to pass this "m dor' l dor," from one generation to the next generation!