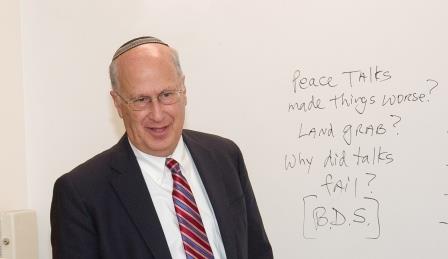 Dr. Bruce Powell
"A Builder must understand how Judaism and Jewish values make a vital contribution to who we are as Americans…"

Dr. Bruce Powell
Head of School, de Toledo High School
I came of age during the difficult days of the Vietnam War and race riots in the streets of major American cities. I came to believe that the only strategic "cure" for the ills of our society was by providing outstanding education to every American. I also came of age during President Kennedy's inaugural speech where he said, "Ask not what your country can do for you; rather, ask what you can do for your country."  I believed he was speaking to me. The combination of an educational strategic plan for our nation, and the inspiration of our president guided my path to education.
In 1970, I landed my first teaching job in a Jewish religious school. The school principal told me the first thing I needed to do was register as a teacher at the BJE. The moment was transformative for me. I recognized at the age of 22 that I am part of a much bigger Jewish world of education. In 1979, I had the opportunity to become the founding general studies principal at Yeshiva University of Los Angeles High School. Suddenly, I became a hands-on builder of a school, and, by extension, Jewish education. I loved it. I was inspired to continue my path in Jewish day school education and went on to help found two more Jewish high schools, Milken Community High School, and de Toledo High School, where I now serve as the founding Head of School. I have also consulted on the founding of 23 other Jewish high schools in America and Israel. 
A builder of Jewish education must have a vision for how Jewish values, tradition, ritual, history, Hebrew language, and peoplehood combine within the context of the greatest experiment of freedom in human history we call the United States of America. A Builder must understand how Judaism and Jewish values make a vital contribution to who we are as Americans, and what responsibilities we have to the world. It means we ensure the long-term viability of our Jewish schools through endowment giving and through a lens of why all of this is good for America, for Israel, and for the world.
I suppose one could say I am a builder of Jewish education. I would say I am a blessed and very lucky man.
Dr. Bruce Powell - Head of School, de Toledo High School