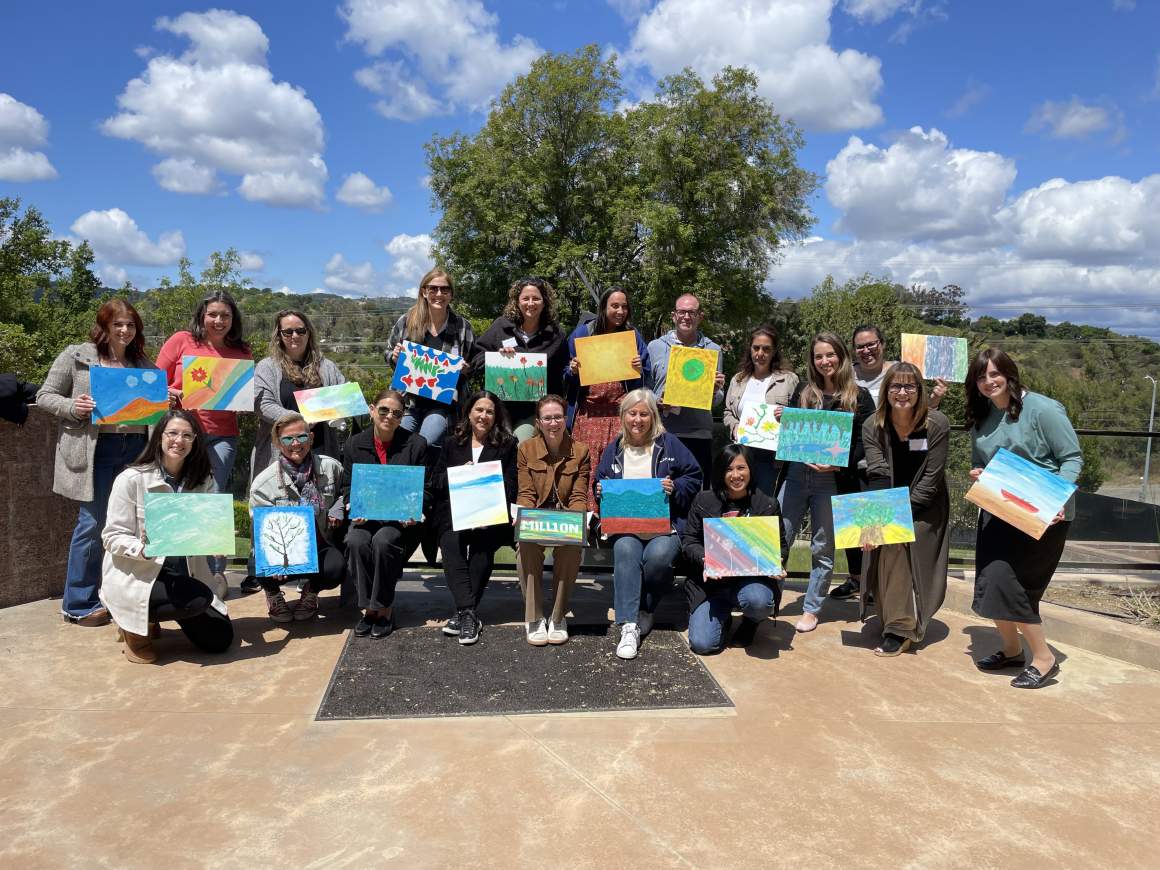 Early Childhood Educators Learn Self-Care
On May 3, BJE's Early Childhood Directors Network gathered for a creative day of exploring and discovering the unique ways in which taking care of yourself can help fill you with energy, restfulness, inspiration, and joy. Teachers have had an extra heavy lift throughout the pandemic, providing critical emotional support to students and families. This session addressed the importance of self-care, and provided the opportunity for educators to connect with colleagues about strategies for self-care - as well as a hands-on "Paint Your Essence" workshop led by Karen Sachs. 
Paint Your Essence is an experience that allows participants to learn more about themselves in a fun, playful, and safe way. Educators were guided through the process of creating their own paintings, expressing themselves through different colors, shapes, and textures. 
Tatiana Zaidman, Director of Early Childhood Education at Mishkon Tephilo, participated in the program, and shared her reactions to this engaging and teacher-centered program:
"The event was both meaningful and helpful, and I am grateful for the opportunity to connect with my colleagues in such a positive and productive way. One of the highlights of the event was the painting component. It was a fun and creative way to explore our individual styles and express ourselves in a unique way. Not only was it a great stress-reliever, but it also provided a bonding experience for us as we worked side-by-side to create our masterpieces and share their meaning with each other.
 
The opportunity to connect with other preschool directors in this BJE group and this event specifically was invaluable. We shared insights, ideas and best practices, and the networking opportunities were tremendous. We were able to learn from one another, gain new perspectives, and collaborate on strategies for providing the best possible educational experiences for our little ones. Thank you to Carly and BJE for giving us the chance to connect with one another and grow as educators and leaders, and for their hard work and dedication to providing meaningful professional development. I can't wait for the next one!"
For questions about BJE's work with Early Childhood educators, contact Carly Rosenstein, Director of BJE's Center for Excellence in Early Childhood.