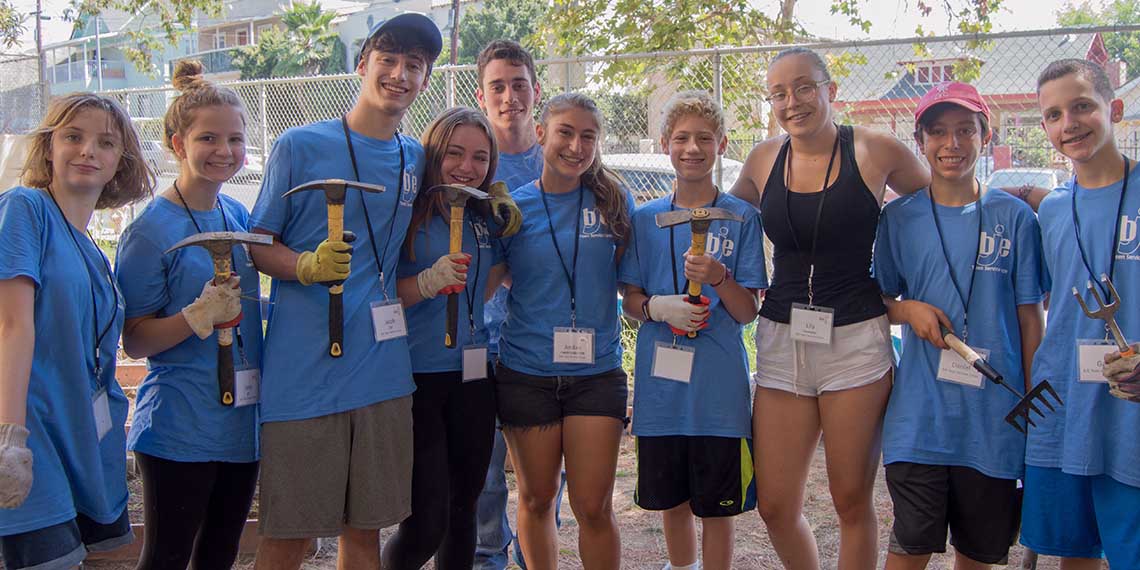 Empowering a community with BJE Teen Service Corps
BJE Impact's Teen Service Corps recently concluded its final summer session of meaningful community service grounded in Jewish learning. The two-session day camp was in partnership with Sinai Temple (Session 1) and Valley Beth Shalom (Session 2). 
"It's about cultivating a mindset," said Jordan Grant, Summer 2017 BJE Teen Service Corps Camp Director. "We take different activities like pulling weeds, interacting with Holocaust survivors, or handing out water bottles on Skid Row, and see them through a Jewish lens - tikkun olam, repairing the world."
On August 8th, campers, CITs, and counselors worked with EnrichLA to help maintain Magnolia Elementary School's teaching garden in LA's Pico-Union neighborhood. In the morning, the group pulled weeds, cleared brush, and spread mulch, and by the afternoon, the garden had taken on new life. The vegetable beds were cleared and ready to sprout a fresh crop of vegetables for the coming school year.
In addition to serving as a source of fresh vegetables, the garden serves as an educational green space for the elementary school's students, in a city where such spaces are uncommon. This sentiment was echoed by Sydney G., 15, a Teen Service Corps CIT and rising sophomore at de Toledo High School. "Gardens bring joy, and this gives the students a new way to learn," Sydney said. "It gives them a green space that's full of life, away from the dirt and smog of the city."
"Not only does it instill a certain aspect of hard work and intention in the kids," added Lily M., a Teen Service Corps Counselor, "but it also helps them think in terms of food justice - who has access to what."
While BJE Teen Service Corps has concluded for the summer, the work of BJE Impact continues year-round.To learn about volunteer opportunities throughout Greater Los Angeles visit BJEImpact.org and see how to make a difference in the community.
BJE Impact also facilitates professional development and partners with educators to support meaningful Jewish service learning at Jewish schools, camps, and teen programs. For more information, please contact Alisha Pedowitz, Director, BJE's Center for Excellence in Teen Experiential Education, at [email protected], or 323-761-8621.