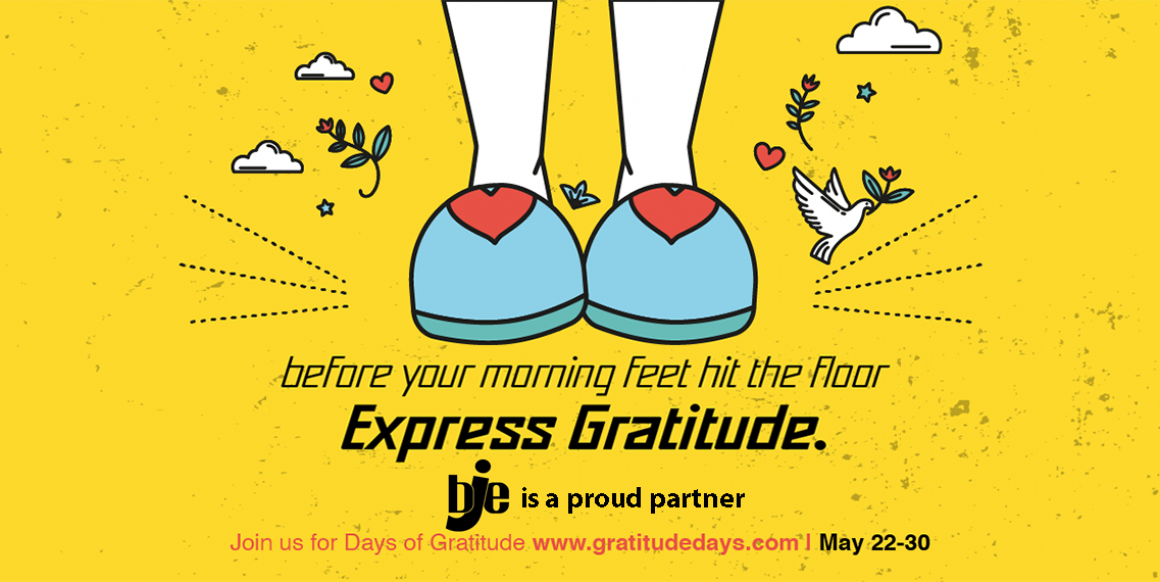 Of Gratitude and World Repair
Each time I venture out amidst the pandemic that has, already, taken so many lives, I think about what changes in behavior (beyond behaviors directly related to containment of the virus) might be appropriate in response to the events of recent months.  One answer came to mind as I visited, via Zoom, a thirty-minute pre-school session engaging (somewhat) the attention of my grandson and his two year old classmates.  During that time, I reflected on words that the teacher sang with her students: Modeh ani ("I thank You"), a declaration traditionally recited on waking up each day. 
Modeh ani begins by acknowledging the gift of life, after having been, so to speak, "dead to the world," while asleep.  It closes with Hebrew words that lend themselves to two different translations: Your (God's) faithfulness (to humankind) is great, and Your (God's) faith (in humankind) is great.  This statement of orientation to the day starts with gratitude and points toward fulfilling the trust represented by the blessing of awakening anew.    
By way of actualizing the spirit of modeh ani, the Talmud suggests embodying attributes associated with God; for example, clothing the naked, visiting the sick, consoling mourners and burying the dead (Sotah 14a).  Another rabbinic text instructs: "Just as God is gracious and merciful, so too you be gracious and merciful (Mekhilta of Rabbi Ishmael, commenting on Exodus 15:2).  This approach to life is the subject of a book by Rabbi Elliot Dorff, a beloved teacher, scholar and prolific author.  
In a volume titled The Way Into Tikkun Olam (Repairing the World), Rabbi Dorff notes that "tikkun olam" as a reference to social action is of very recent origin, dating to the 1960s; while the term "tikkun olam" appears much earlier in rabbinic literature, the way it is currently invoked is, decidedly, a phenomenon of the latter part of the twentieth century.  That said, Rabbi Dorff "unpacks" longstanding Jewish teachings relating to such matters as helping the poor, how we speak to one another, supporting people in times of need and joy, family relationships, and more.  Whether under the rubric hesed, tzedek, mishpat or other such terms, Jewish teachings and the values they express characterize, in Rabbi Dorff's words, "the world we all should strive to create." 
The pandemic starkly reminds us of the interdependence of humankind.  The work of containing coronavirus involves the dedicated efforts of specialists and responsible conduct on all our parts. The project of world repair – shaping a world that reflects the ideals we are collectively capable of realizing – begins with gratitude; it is something to which each of us can contribute.  
Dr. Gil Graff is the Executive Director of BJE.
BJE is thrilled to partner with Days of Gratitude, May 22 - May 30. Please join us - www.gratitudedays.com.