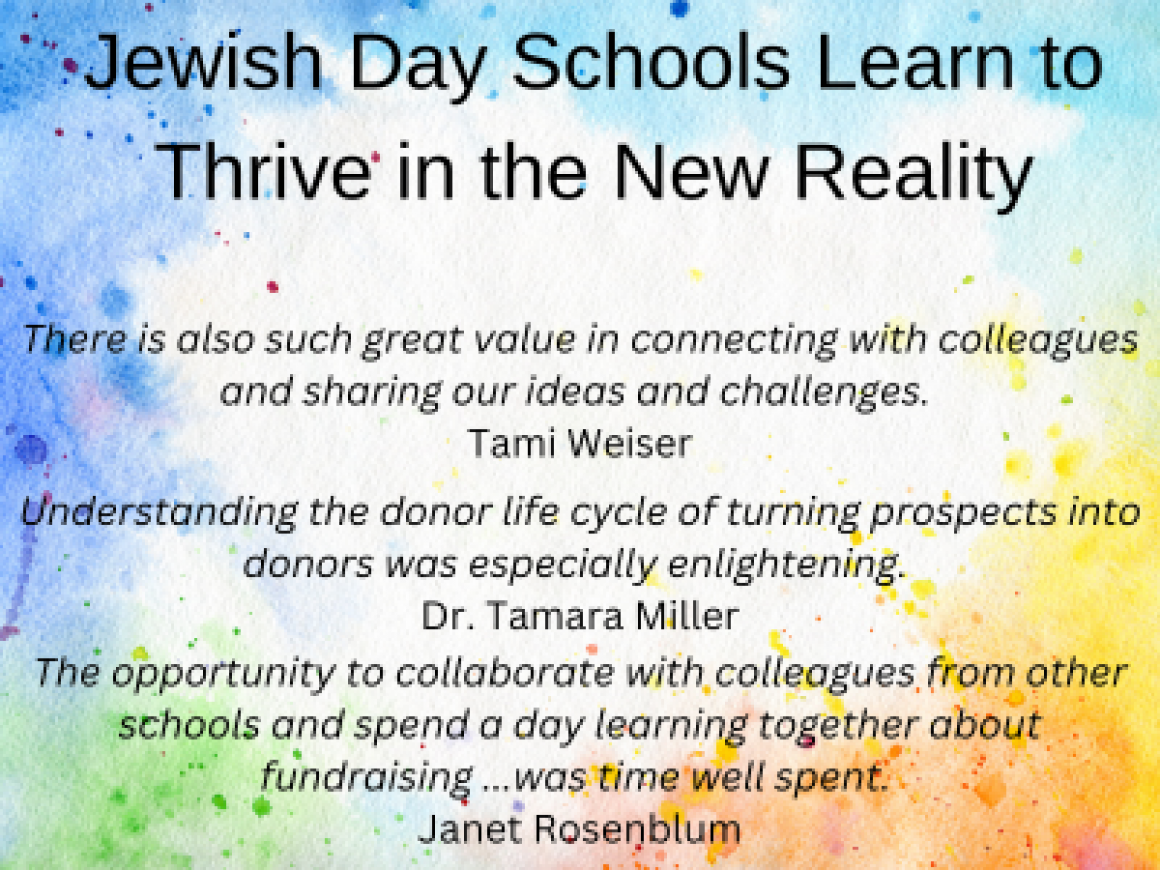 Jewish Day Schools Learn to Thrive in the New Reality
Last week, BJE gathered heads of school and other administrators from Jewish day schools across the region for an opportunity to discuss and learn about the new landscape in schools as we continue to relate to challenges emerging from the pandemic.  A morning session led by Amy Schiffman of Evolve Giving Group offered participants simple steps to inspire donors and boost giving in their school communities. This included tips to strategically tailor messaging to parents, grandparents, alumni and other community members for optimal engagement.
After lunch, Evolve Giving Group's Jami Bachrad addressed several pandemic-related challenges: resignation, recruitment, retention and rethinking. With 40% of nonprofits currently struggling to fill positions, participants learned important strategies to create a thriving workplace culture to help retain employees and foster more engaged school communities.
Though late April is typically an extremely busy time for schools, more than 30 educators registered for this meaningful program, which provided both critical learning for schools and valuable time spent in-person with community colleagues. Several shared their impressions of the program:
Tami Weiser, Head of School at Wise School (host venue for the program)
"The training today from Evolve was outstanding. The first session on engaging donors and the Board role was very informative – Amy Schiffman is a wealth of knowledge and expertise. And the second workshop on recruitment and retention with Jami Bachrad was helpful in providing guidance on staffing trends, compensation, and attracting and securing high quality candidates. For some educators this provided new insights and information, and for others of us it was a welcome review and confirmation of the work we are doing. It was wonderful to get such a high-level training without having to leave town for a conference. There is also such great value in connecting with colleagues and sharing our ideas and challenges. We are grateful to BJE for sponsoring this wonderful exceptional professional development opportunity and look forward to future meetings like this. We live in a great city, and today was an example of this!"
Dr. Tamara Miller, Head of Academics, Harkham Hillel Hebrew Academy 
"I really enjoyed attending BJE's professional development series this past week. The first session focused on how school boards can be optimized. The speaker reviewed the critical roles of board members and how a smaller board can be more effective with all members accountable for the fundamental work of the board (sustainability). The fundraisers are composed of ambassadors, advocates, and askers, and they are all key to the sustainability of the school. Understanding the donor life cycle of turning prospects into donors was especially enlightening. The second session was also quite practical. The speaker discussed some of the trends we are seeing in schools with respect to hiring and retaining great teachers and administrators. Many Jewish schools are facing a similar challenge and it was helpful to hear some of the strategies that schools can use to optimize their hiring process this season. Helpful and important information was packed into the short three-hour PD!"
Janet Rosenblum, Advancement Director, Sinai Akiba Academy
"It was a treat to attend the BJE day school program Learning to Thrive in the New Reality. The opportunity to collaborate with colleagues from other schools and spend a day learning together about fundraising, along with retention challenges, was time well spent. I will absolutely bring this information back to my own school with hopes of sharing and implementing some of the ideas from these two exceptional speakers. Many thanks to BJE and to Evolve Giving Group for helping us all grow and advance our collective schools."
Tal Barak, Director of Communications & Associate Director of External Relations 
Milken Community School
"Attending the BJE development workshop with Amy Schiffman and Jami Bachrad from Evolve was both reaffirming of the work we are doing at Milken in the areas of development, and how we are working with our Board of Trustees and our lay leaders, AND very informative as to the ever-changing landscape of hiring and retention in the world of nonprofits and Jewish Day School. Understanding trends in nonprofits through the lens of these experienced consultants helps us to continue to do great work in this arena. We look forward to discussing and implementing some of these best practices in our school."  
 
To learn more about BJE's work supporting Day Schools in Los Angeles, please contact Rabbi Jim Rogozen, Director of BJE's Center for Excellence in Day School Education.