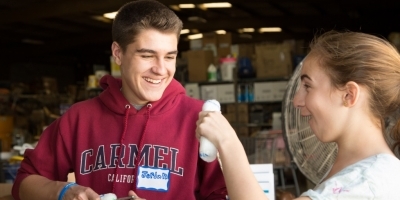 LA Teens and Educators Volunteer at Habitat for Humanity
61  LA Teens and Educators Volunteer at Habitat for Humanity

Fri, 04/15/2016 - 2:11pm -- Alisha Pedowitz
Let happiness shine through the windows.
Let memories seep through the front door.
Let this home be filled with love and health.
May your prosperity grow in this home.
May hope guide you through the dark times.
May this home bring positive spirits to all its residents. 
Beginnings.
On Sunday, April 10, 2016, 37 teenagers from 8th – 12th grade and 7 educators representing 6 different Jewish teen programs came together to volunteer at Habitat for Humanity of Greater Los Angeles. Together, they reflected on the reality of home insecurity in Los Angeles, made connections to the Passover story, and worked side by side to paint and prepare siding for a home in Inglewood being built by Habitat for Humanity of Greater Los Angeles. At the end of the day, the teens wrote Blessings for the Home (like the one above) to be read to the residents at the home dedication ceremony.
This day of teen service was a collaboration amongst Jewish Service Learning educators from BJE Teen Service Corps, Sherut L'Olam, Milken Community Schools, Kol Tikvah, Temple Etz Chaim, and Tzedek America—a collaboration facilitated by BJE Impact: The Center for Jewish Learning, with the purpose of connecting Service Learning educators together in a collaborative, supportive network that allows educators to grow and expand their work in the field. The educators worked together prior to the day of service to plan the learning and reflection activities that framed the day's service project. 
We believe that by supporting and connecting educators, we are able to in turn impact the meaningful experiences of Jewish teens in Los Angeles. On April 10, the impact of this work was tangibly clear. The educators from various organizations worked in synergy, to the benefit of the very excited teens who clearly took pride in the work they were doing to help others through Habitat for Humanity. And, in the blessings that they wrote for those that would receive this home, the Jewish values that we hope to infuse into the identities of our teens came through loud and clear. 
Los Angeles Jewish Teen Initiative's BJE Impact Jewish Service Learning Educator Network, provided by BJE:  Builders of Jewish Education, is a feature of the Janet and Jake Farber Teen Experiential Educator Network.  The LAJTI is co-funded by the Jewish Federation of Greater Los Angeles and the Jim Joseph Foundation, with seed funding provided by the Jewish Community Foundation of Los Angeles.