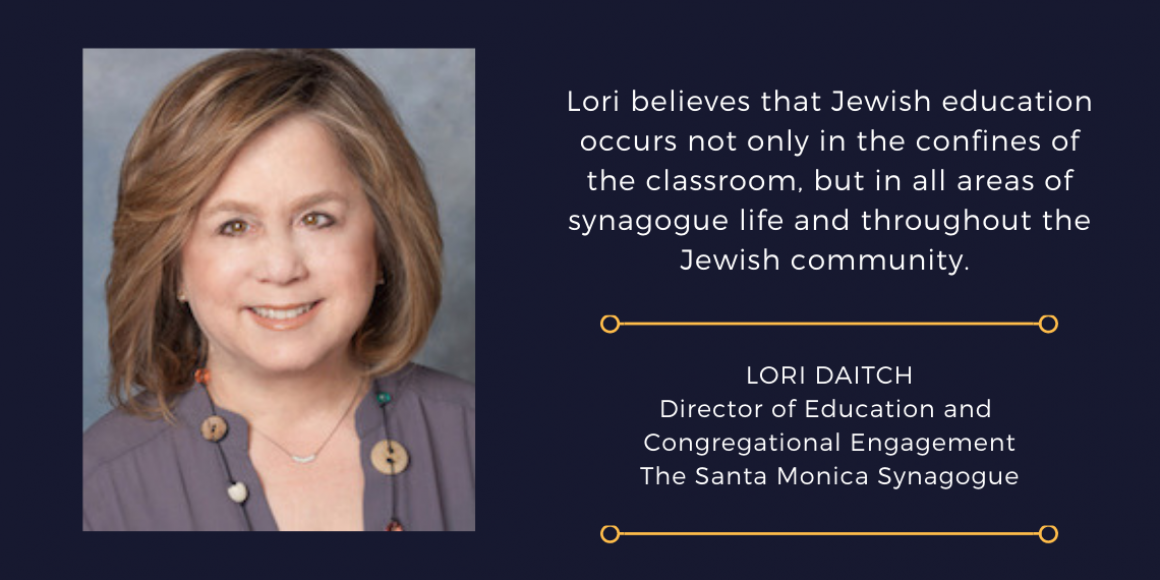 Lori Daitch, Director of Education - The Santa Monica Synagogue
The Santa Monica Synagogue thanks BJE for recognizing LA-area educators and their successful efforts in pivoting to address Jewish education during the pandemic, and congratulates Lori Daitch, our long-time Director of Education, along with her fellow LA-area Jewish educators.
Lori has been involved in Jewish and early childhood education for over 30 years, and has worked for The Santa Monica Synagogue for the past 25 years. She believes that Jewish education occurs not only in the confines of the classroom, but in all areas of synagogue life and throughout the Jewish community. She is passionate about Jewish learning, understands where students are in their learning and how to meet them there, and works hard to assure our religious school programs are consistent with the latest models of learning. Lori strives for close collaboration among teachers, working with them in professional development sessions and encouraging the practice of new learning models. She builds deep and long lasting partnerships with parents and engages with students of our religious school on many levels. She thinks outside of the box and is always creating innovative opportunities in which students and their families can participate.
Lori seeks to ensure that all students are comfortable with the fundamentals of Jewish living, learning and values, and that they go out into the world with a strong Jewish identity. In past years she has regularly led groups of 8th graders on a trip to see "Jewish New York" and has taken groups of teens to D.C. to meet their representatives in Congress through a program sponsored by the Religious Action Center of Reform Judaism. She also was instrumental in having the religious school teens of The SMS participate in TALAVI, part of The Jewish Federation Global Twinning Program, with partner schools in Vilnius and Tel Aviv, hosting visiting teens from those schools and taking many of our teens to visit their counterparts in Lithuania and Israel.
Lori has been an active participant in BJE's Reshet-LA as well as the Association of Reform Jewish Educators (ARJE). The relationships she has built among her fellow educators, locally and nationally, provide her with opportunities to collaborate on programming and discuss new ideas. Lori is highly respected by her peers and recently was awarded the ARJE national honor of Distinguished Educator.  
Over the summer, in addition to creating a new online religious school curriculum, Lori met online bi-monthly with many of our teens who wanted to continue the connection and work on ways in which they could help support other members of our community. When no High Holy Day family services were scheduled, Lori created meaningful art and educational projects for children to do with their families, driving all over the Westside to deliver the materials. For Hanukkah, she did the same for the younger religious school children to build their own menorahs, and again with Hanukkah decorations to all religious school families attending "Light Up the Night," a program she created for families to attend in our parking lot. Lori also has also added many new outreach programs during the pandemic, including a weekly online Story Time and Shema on Wednesdays and Havdallah every Saturday evening, plus holiday baking classes.
Lori, you are beloved and deeply appreciated by your students, past and present, and their parents!