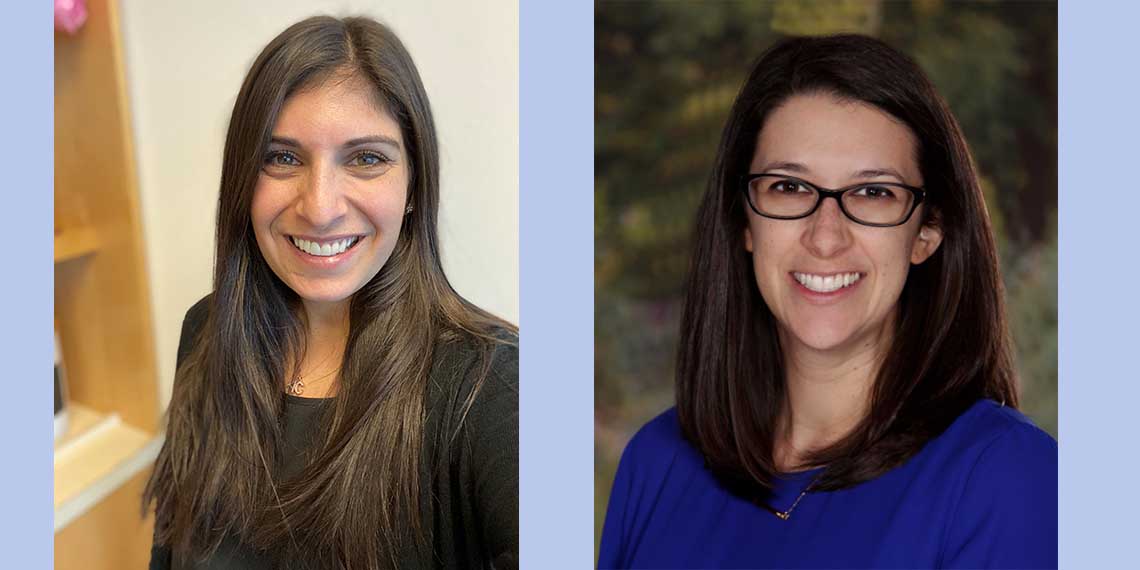 Meet BJE's Newest Staff Members!
In the fall, BJE welcomed two educators to its professional staff - Experiential Educator Michal Kress and Early Childhood Education Specialist Carly Rosenstein. Both natives of Los Angeles, Michal and Carly bring a wealth of knowledge and experience to BJE. Each has already begun making significant impact through their work at BJE. 
Michal Kress - Experiential Educator

Michal is a graduate of de Toledo High School, and UC Irvine, where she earned a B.A. in Political Science with a minor in Education. Her experience in Jewish day schools, summers at Camp Ramah, and year as a Lainer Intern, ignited her passion for Jewish experiential education. She is utilizing her experiences to conduct BJE's Teen Service Corps, provide Service Learning consultation to Jewish schools and youth groups, direct the Lainer Fellows program for area undergraduates interested in Jewish education or communal service, and serve as part of the leadership team of the L.A. Jewish Teen Initiative's Professional Learning Community.
  
Michal is currently working with more than a dozen Jewish organizations and institutions in the community to build upon and improve their work with teens in the area of service learning. Her work with Lainer Fellows takes her to UCLA, CSUN, and USC. Finally, she is busy planning "hands on" service learning programs to bring to two Jewish summer camps this summer as well as to BJE's week-longTeen Service Corps summer camp sessions.
Says Michal, "Growing up in day schools and Jewish summer camp, there has always been a strong emphasis on Judaism and education in my life. I always found myself thriving in experiential settings and I am so excited to expand this type of learning in the LA Jewish community through my work with BJE."

Michal is married to Rabbi Alex Kress (a Reform Rabbi currently at Hillel at UCLA), and the couple lives in Los Angeles with their children Aria and Caleb.
 
Carly Rosenstein - BJE's ECE Specialist

Carly attended Los Angeles Hebrew High School and was an active member of USY. She earned a B.A. in Psychology with a minor in Applied Developmental Psychology from UCLA, and an M.A. in Education Policy and Administration from Loyola Marymount University.
As an AmeriCorps Fellow, she worked for the Jewish Federation's KOREH LA and then taught middle school students in Watts as part of Teach for America. Prior to coming to BJE, Carly was Assistant Director of Education at Temple Akiba of Culver City, working with the Early Childhood Center and Religious School. Carly's passion lies in instilling a love of Judaism and learning in the next generation, and she hopes to bring that to her position as BJE's ECE Specialist.
Since joining BJE, Carly has already organized two events for the Early Childhood Directors Network: a day of learning and networking, focused on strategies for managing stress and the first ever Zoom online event dedicated to successfully onboarding new teachers. Fourteen ECC directors attended the online learning and over 30 attended the first ECDN event.
 
Carly is currently planning BJE's spring institute for early childhood educators, and observing nominees for BJE's Lainer and Smotrich educator awards for excellence in teaching.
Says Carly, "I came to BJE because of a love of education and the joy of watching a young mind learn and grow. Our earliest educational foundations begin in early childhood and it is up to us to provide the best educational experiences we can to set our children up for success. I am excited to network with all of the Early Childhood directors around town and see the wide range of amazing programs happening throughout Los Angeles. I hope to foster a climate of connection and collaboration to help strengthen all of our programs and professionals."
In addition to her position at BJE, Carly spends Sundays teaching Torah and Judaism to 1st graders and enjoys spending time with her husband, Rabbi Eric Rosenstein, and her two young children, Lilah and Gabriel. 
You can contact Michal at [email protected] or 323-761-8621 and Carly at [email protected] or 323-761-8623.